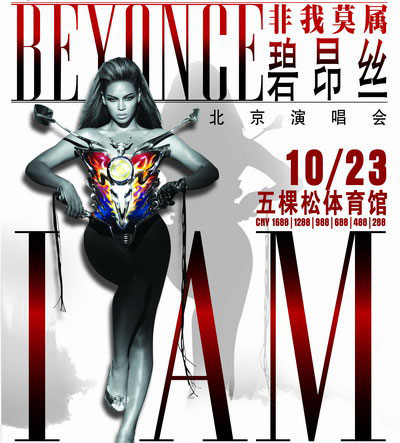 Beyonce performs in her concert (file)
Beyoncé's "I AM…" World Tour is coming to Beijing's Wukesong Arena on Friday, October 23rd.
Proudly presented by Ford Fiesta and celebrated by Budweiser and The Village, the most heavily anticipated concert event of the year, Beyoncé's "I AM…" Tour will mark the artist's first full-length concerts since 2007's sold-out "The Beyoncé Experience" and will premiere live performances of songs from I AM…SASHA FIERCE, her latest international #1 chart-topping album.
A #1 best-seller in the United States and Japan, I AM…SASHA FIERCE went Gold in China and features the singles "If I Were A Boy" her recent #1 smash in the UK charts ( also #1 Norway singles, #1 Sweden singles, #1 South Africa airplay, #1 Korea airplay, #1 Brazil airplay and #1 Denmark digital singles), "Single Ladies (Put A Ring On It)," which hit #1 on the American Billboard Hot 100 & R&B charts and has spent three weeks at #1 on Germany's airplay-based club charts and the single "Halo" hit #1 on Hit FM Airplay chart for 2 consecutive weeks.
The world-renowned top designer, director and photographer Thierry Mugler will work as creative advisor and costume designer on Beyonce's "I AM…" Tour.
Beyonce's new concert production promises to showcase the music and film superstar, along with her extraordinary all-female band, performing musical hits, classics, and surprises in a newly-created high-tech state-of-the-art concert environment.
Tickets go on sale at 24th September 2009. On Piao.com.cn 24-Hour hotline: 400 610 3721 and English service: 010-6417 7845
Website:www.piao.com.cn
BEYONCÉ I AM… SASHA FIERCE