Robert Pattinson hooked up with Megan Fox?
(Agencies)
Updated: 2009-06-10 10:40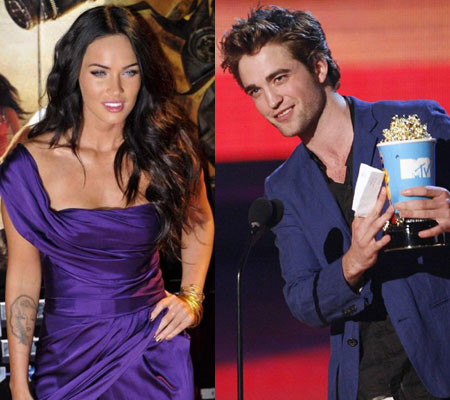 (L) US actress and cast member Megan Fox poses for photographers during the movie 'Transformers: Revenge of the Fallen' world premiere in Tokyo, Japan, 08 June 2009. The movie will hit Japanese screens from 19 June. [Agencies]
(R) Actor Robert Pattinson holds his Breakthrough Performance Male award for his role in "Twilight" at the 2009 MTV Movie Awards in Los Angeles May 31, 2009. [Agencies]
TheTwilight  heartthrob, who is rumored to be dating his Twilight costar Kristen Stewart, and was recently reported to have hooked up with Joe Jonas' girlfriend Camilla Belle — apparently had liaisons with Transformers star Megan Fox.
The "Transformers" hottie, 22,  has split from fiancé Brian Austin Green, a close pal of Fox has confirmed. Fox and Green "remain very fond of each other," the source told E! Online, "officially, though, it's over between them and has been for a while."
The actress reportedly bragged about hooking up with the Twilight heartthrob Pattinson when the couple first called off their engagement, according to a source who worked closely with Fox on the set of "Jennifer's Body."
Related readings:


 Photos: Megan Fox at premiere of the "Transformers: Revenge of the Fallen" in Tokyo


 Sienna Miller,Robert Pattinson,Hilton and other celebs at 2009 MTV Movie Awards in L.A.


 Robert Pattinson's Twi-night with Kristen


 Pattinson and Stewart win Best Kiss at the 2009 MTV Movie Awards in L.A.
"Megan was totally into [Rob] and thought he was really cute," dished the insider.
"But nothing ever went further than one night they were together. He totally blew her off."
Pattinson's cold shoulder may be the reason behind Fox's not-so-nice jab at the "Twilight" cutie in "Elle" magazine.
Making no secret about her love for older guys,  the brunette beauty tells ELLE magazine's June 2009 issue she is not into ladies' men Robert Pattinson and Zac Efron because they are "too pretty" and "immature".
Of what makes her think so, she explains, "Rob is, what, 22? Zac is 21? That's a joke ….. Boys in their 20s are a waste of time. They have nothing to offer conversationally. They're immature. I feel like I have a better shot with someone in his 30s."
But Fox's rep denies the claims: "[Megan] has literally met Rob twice. She went to coffee with Shia [LaBeouf] the other day, so they must be hooking up too, right?"