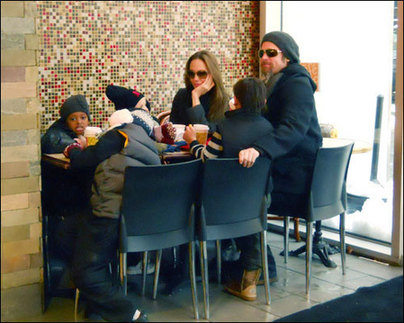 Brad Pitt and Angelina Jolie donated $100,000 to two US foster care homes.
The Hollywood couple - who raise six children together - gave the American SOS Villages in Florida and Illinois the Christmas present after being impressed by the work they do.
Related readings:

 Angelina Jolie believes in free love


 Angelina Jolie spotted talking on the phone


 Jolie and Pitt gave 6.8 million dollars to charity


 Brad Pitt's $6.8m charity donation
Angelina said of the generous gift: "We have seen firsthand the remarkable job SOS does to raise orphaned and abandoned children and keep families together. No one 'ages out' of an SOS Village: vocational training, advanced education, living assistance and moral support are there forever."
The SOS Villages house over 200 disadvantaged children and Brad said it was important to show gratitude for the work they do.
He said: "In this holiday season, many of us take for granted that we are surrounded by loving family members. The poor outcomes for foster children indicate that we must do a much better job of supporting them."
It was recently revealed Brad and Angelina donated $6.8 million to charity last year after raising the money through their Jolie-Pitt Foundation.
According to The Hollywood Reporter - which received a copy of the 2008 tax return for the charity - the Jolie-Pitt Foundation banked $13 million in 2008 and over half was given back to good causes.