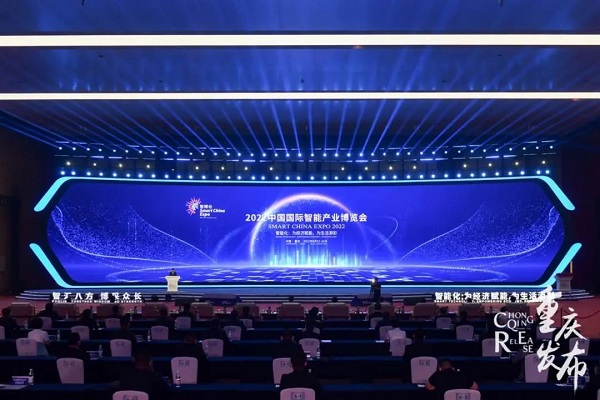 The SCE 2022 opens on Aug 22 in Chongqing. [Photo/WeChat account of Chongqing Municipal People's Government]
Chongqing municipality in Southwest China has been holding the Smart China Expo (SCE) since 2018, and talent, resources and capital have been flowing in at an unprecedented level since then. The positive effect of SCE on the digital economy has become more and more significant over the years.
By the end of 2021, the digital economy accounted for 27.2 percent of Chongqing's GDP. Chongqing is holding the SCE for the fifth time from Aug 22 to 24 this year.
Due in part to the event, the number of digital economy operators above a designated size in Chongqing has exceeded 1,704, with the average annual added value of the digital economy standing at 16 percent.
"SCE has established an international platform for our technological exchanges and project cooperation," said Zhang Liang, vice president of operations of the GLP Tenglong 5G Chongqing Data Center. The green energy data center project agreement was signed at the SCE 2019 and landed in Chongqing. It is currently providing services for high-tech research institutes in the fields of cloud computing, AI, and 5G applications.
Construction of digital economy infrastructure has also been on the agenda of the municipality, which has been listed among the first group of 5G network deployment cities and currently boasts more than 70,000 5G base stations.
In addition, Chongqing has one of five national-level industrial Internet identification and resolution nodes.
There are more than projects and technologies that SCE can bring to Chongqing. Over the past four years, 10 international organization management officers, 73 domestic and foreign experts, and 53 senior executives from Fortune 500 companies invited to SCE have brought brand-new insights and opinions to enlighten the big data and intelligentization sectors of western China.
The SCE this year centers on the theme of intelligent cities, and the Chongqing pavilion will demonstrate over 90 smart application scenarios across eight fields, such as smart transportation and communities.
So far, Chongqing has established 425 smart campus demonstration schools, 41 smart tourism demonstration scenic spots, 39 smart tourism rural demonstration sites, and 57 smart hospitals.