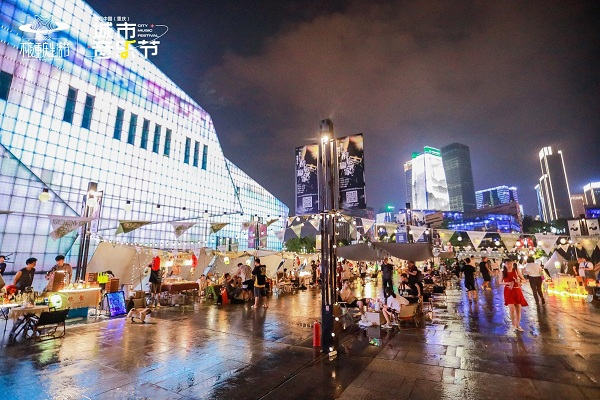 A photo shows local residents enjoying their nighttime activities in Southwest China's Chongqing municipality. [Photo provided to chinadaily.com.cn]
For the third straight year, Chongqing tops the list of cities in China for its nighttime economy, according to a report released on the launching ceremony of the 2022 Chongqing Nightlife Festival at Grand Theatre Square on Friday night.
The nighttime economy refers to business activities that take place between 6 pm and 6 am in the service sector, including shopping, catering, entertainment and leisure. It is a new force in China's economy.
Since 2019, authorities nationwide have beefed up measures to develop the nighttime economy and encourage post-dusk business activities and later closing hours at museums and art galleries.
According to the government, 60 percent of consumption in Chongqing has happened at night in recent years, largely because of the city's daytime heat and humidity.
"Chongqing's nighttime economy has become a new engine for cultivating and building the city into an international consumption center," said Zhang Yongwu, director of the Chongqing Municipal Commission of Commerce.
He said Chongqing is creating 16 nighttime economy clusters and 33 municipal-level night market blocks, to drive economic growth.
In the next three months, more than 200 activities will be held throughout the city to promote that objective, including the First China (Chongqing) City Music Festival and Chongqing (International) Beer Culture Festival, according to the event organizing committee.
The music festival kicked off after the launching ceremony. More than 50 music shows will be staged in the municipality during the festival, the organizing committee said.