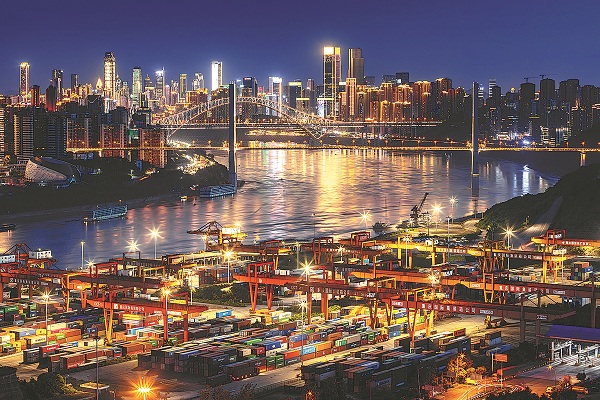 Cuntan Port by the Yangtze River in Chongqing bustles with work at night. [Photo by ZHANG KUNKUN/FOR CHINA DAILY]
City's efforts vital for development of not only western regions, but also China and BRI nations
As the only municipality under direct central government management in inland China and the gateway to the western region, Chongqing is spearheading the opening up of the hinterlands through its development in recent years under the guidance of President Xi Jinping, who has made two inspection visits to the southwestern city.
Chongqing's GDP reached 2.79 trillion yuan ($412.3 billion) last year, 1.4 times more than in 2012 and an 8.3 percent increase on 2020. The traditional industrial powerhouse is now transitioning to smart city status through digital innovation, with over 5,000 high-tech companies that contribute 19 percent of the dynamic city's industrial output.
Thanks to a sound socioeconomic environment, Chongqing has become a hot investment destination. In the past five years, foreign investment has grown to $517 billion and 312 Fortune 500 companies have invested in the city, according to local authorities.
Located on the upper reaches of the Yangtze River, the city of 31 million boasts key geographic advantages as a strategic pivot in the national development program for the western regions, as well as a connecting point for the Belt and Road Initiative and the Yangtze River Economic Belt.
During his inspection trip to Chongqing in 2016, Xi said the municipality would become an inland international logistics hub. Xi visited the city again in 2019 and said that it should strive to make new achievements and breakthroughs as part of the drive to develop western regions.
He also said it should continue to be an anchor of inland development, a driver in advancing the BRI and a leader in green development in the Yangtze River Economic Belt.
Like other landlocked regions in the west, logistical problems held Chongqing back for hundreds of years. Recently, the municipality has invested heavily in its transportation infrastructure. It boasts a large river port, an international airport and a railway network that has helped it become an international trade and logistics hub connecting China, Europe and Southeast Asia.
Equipped with high-tech port and logistics management, Guoyuan Port can deliver freight using intermodal transport to over 200 countries and regions via the China-Europe (Chongqing) Express and the New International Land-Sea Trade Corridor.
In May, a train loaded with 60 containers of mechanical devices, electronic components and auto parts departed from Guoyuan Port. After arriving in Lincang, Yunnan province, the cargo was transported by road to Mandalay in Myanmar, a journey that also marked the opening of a new international rail service between China and the Southeast Asian country. "The new 2,000-kilometer route takes about 15 days, 20 days less than the traditional route, and reduces logistics costs by 20 percent," said Zhang Jun, president of the South Asia Future Investment Group.
Chongqing is also the headquarters of the China-Singapore (Chongqing) Demonstration Initiative on Strategic Connectivity, which was signed in 2016. This initiated the New International Land-Sea Trade Corridor project in a bid to speed up the opening up and development of the western region.
It enables goods from the western regions to be shipped by road, rail and water to and from countries such as Singapore through the Guangxi Zhuang autonomous region. It also connects Europe with Southeast Asia, with Chongqing as a key rail hub, and reaches 319 ports in 107 countries and regions.
"The trade corridor is a public service for China's western provinces and ASEAN countries," said Zeng Jinghua, the project's administration director. "The achievements of the past five years show that it has great potential in boosting regional integration and development."
Another regional development plan also offers Chongqing new opportunities. In January 2020, the Chengdu-Chongqing Economic Circle became the fourth national key region after the Yangtze River Delta region, the Guangdong-Hong Kong-Macao Greater Bay Area and the Beijing-Tianjin-Hebei region.
Chengdu, capital of Sichuan province, and Chongqing are jointly shouldering the responsibility of leading high-quality development in western China.
Protecting the Yangtze
The Yangtze, the world's third-longest river, flows for 6,300 kilometers from glaciers on the Qinghai-Tibet Plateau to the East China Sea off Shanghai's coast.
It has fed people living along its banks for thousands of years and is one of the cradles of Chinese civilization, known as China's "mother river". Today, more than 400 million people rely on it for drinking water. Hailed as a major economic engine, the Yangtze River Economic Belt comprises nine provinces and two municipalities and accounts for some 40 percent of the national population and GDP.
However, economic development has resulted in conflict between progress and protection as environmental issues, such as overfishing, water pollution and soil erosion, are affecting the river and residents.
As roughly 691 km of the Yangtze runs through Chongqing, the city has concentrated on environmental restoration and protection and has avoided large-scale development, especially since Xi's inspection tour in January 2016, when he urged the municipality to become a "pleasant place with clear water and green mountains".
Chongqing authorities quickly began improvement work along the Yangtze and its tributary, the Jialing River, restoring waterfronts, optimizing riverside functions, creating water-friendly spaces and protecting historical and cultural resources.
To strengthen environmental protection, Chongqing has drawn an ecological red line of around 2.04 million hectares of land. To restore water quality, environmental authorities have banned the construction of new chemical plants within 1 km of the Yangtze and its major branches, and new industrial parks must be located at least 5 km away.
These initiatives are already showing results. Water quality in the Chongqing section of the Yangtze has been rated as "good" under national standards for the past five years.