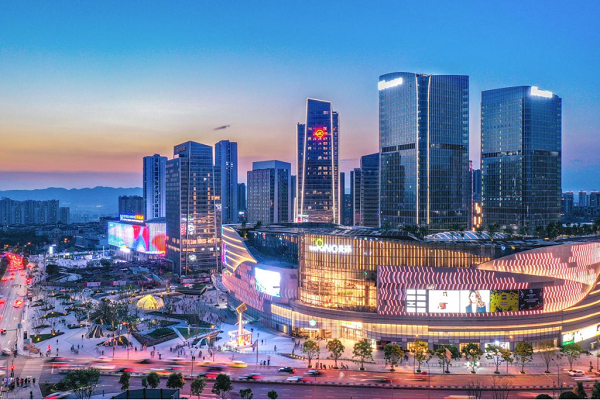 A night view of a business center in Liangjiang New Area, Southwest China's Chongqing municipality. [Photo/liangjiang.gov.cn]
Liangjiang New Area ranked first in Chongqing in the first three months of this year in terms of the renminbi and foreign currency deposit and loan balance, with total retail sales of consumer goods increasing 6.3 percent year-on-year, 3 percentage points higher than the national level.
Statistics show that by the end of last year, the new area had become home to 421 new-type financial institutions boasting 300 million yuan ($44.76 million) in registered capital.
The new area is building three financial belts – Cuntan cross-border open finance belt, Longsheng industrial finance development belt, and Shuiyu green finance innovation belt.
Since the implementation of the chain chief system, Liangjiang has been seeking to enhance the financial sector's ability to serve the real economy, and is promoting the founding of six centers in industrial finance, sci-tech finance, trade finance, digital finance, inclusive finance and green finance.
The government has redoubled its financial support for sustainable industries by creating new financing approaches and serving the industrial chain ecosystem. Chongqing's first green finance institution – Liangjiang branch of China Industrial Bank – continues to focus on green projects and sectors in the region.
In 2021, a total of 446 sci-tech enterprises in Liangjiang received loans of 1.44 billion yuan.