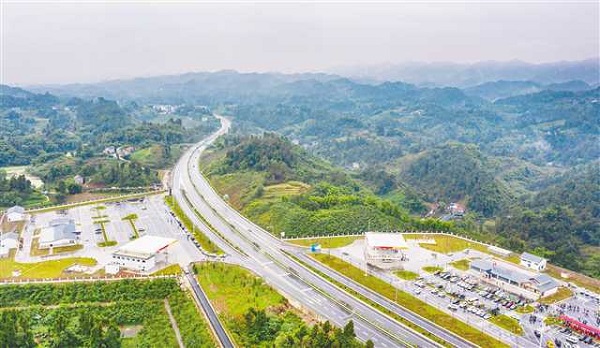 Nanchuan-Liangjiang expressway further completes Chongqing's highway network and is expected to boost economic development. [Photo/liangjiang.gov.cn]
The expressway between Nanchuan district and Liangjiang New Area in Southwest China's Chongqing municipality officially opened to traffic on Oct 20.
The 77-kilometer-long highway will further complete Chongqing's expressway network. By connecting with the Nanchuan-Daozhen expressway, it can allow motorists to drive directly to Beihai city in Guangxi Zhuang autonomous region.
It passes through Chongqing's Nanchuan, Fuling, Ba'nan and Yubei districts and connects to the Shizhu-Chongqing expressway, Baotou-Maoming expressway, Shanghai-Chongqing expressway and Yinchuan-Baise expressway.
The highway shortens the driving time between Nanchuan and Liangjiang to 50 minutes and drops the expressway toll from 74 yuan ($11.11) to 50 yuan. It also boosts the development of featured rural industries and products in neighboring areas.
The time it takes tourists to drive to scenic spots in Ba'nan and Fuling will be shortened thanks to the new expressway, and convenient logistics will be provided to industrial parks and agricultural facilities along the route.