An international economic and trade development center will be built in Chongqing's Liangjiang New Area to spur exchanges between Chongqing and the Shanghai Cooperation Organization (SCO).
The center will build Chongqing into a communication highland to integrate business, culture, industry, tourism, education and technology, according to a strategic cooperation deal inked by the administrative committee of Liangjiang New Area, the SCO Business Council and Chongqing-based Life Online Industrial Group.
Under the cooperation framework, the three parties will team up in various key sectors, including management systems, renewable energies, smart manufacturing, intelligent logistics, communication technologies and career training.
Accordingly, the Chongqing municipal government and the SCO Business Council will smooth online and offline trade activity, facilitate agricultural and industrial imports and boost electronic and automobile exports.
"Liangjiang will forge an international city alliance to attract ambassadors from SCO member countries and reinforce city-to-city economic ties," said Yang Lijie, deputy director of the Liangjiang New Area administrative committee.
Yang also noted that the strategic partnership will build up an international logistics hub in Chongqing and pave the way for the implementation of the Belt and Road Initiative.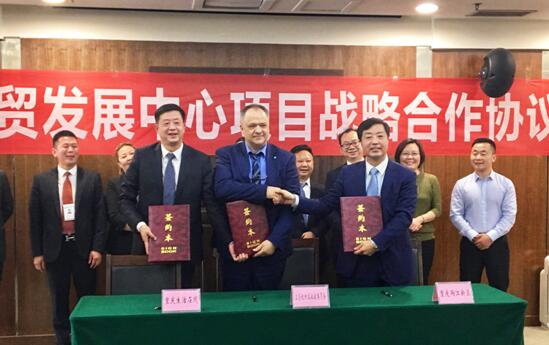 Representatives of the three parties at the signing ceremony [Photo/liangjiang.gov.cn]