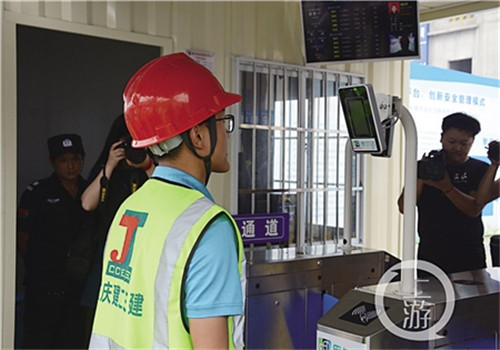 A facial recognition machine scans a worker before he enters the construction site at Lijia Children's Hospital in the Liangjiang New Area. [Photo/liangjiang.gov.cn]
Chongqing announced to shake off traditional construction methods in the city in favor of new smart construction sites to improve safety and efficiency on June 26.
Smart construction sites often refer to equipping a construction site with intelligent visual, auditory, olfactory and logic analysis sensors, technologies and device platforms.
The Liangjiang New Area started applying advanced intelligent technologies in its Lijia Children's Hospital construction site last year. Intelligent technologies including facial recognition systems, blackbox systems, real-name management systems and human microwave induction have been put into use at the site.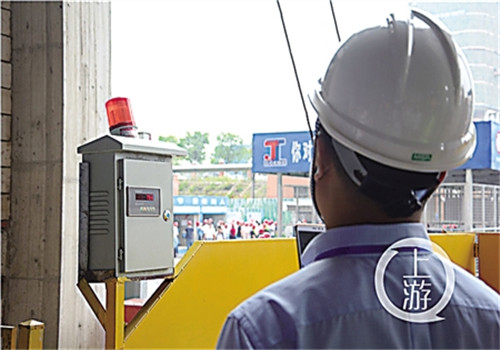 A worker tests an intelligent alarm on the discharging platform, which will give a warning ring when the platform is overloaded. [Photo/liangjiang.gov.cn]
Worker attendance is checked by facial, fingerprint and RFID recognition based on their personal information and check against a real-name management system.
Alarms at the entrance of the construction site can recognize workers who forget to wear their safety helmet and warm them before entering the construction area, effectively securing the safety of workers.
Li Ming, deputy director of the Chongqing Municipal Commission of Urban-Rural Development, introduced that smart construction sites are presently at a stage of automated information collection, and will develop into a stage of smart management in the future.
Li added that the Liangjiang New Area is expected to utilize smart construction sites in 20 percent of its underway construction projects this year.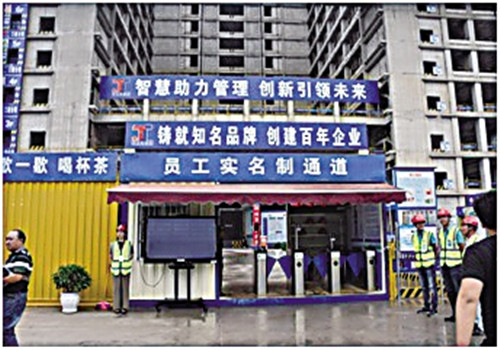 The worker's entrance at the Lijia Children's Hospital construction site in the Liangjiang New Area. [Photo/liangjiang.gov.cn]
Edited by Zachary Dye