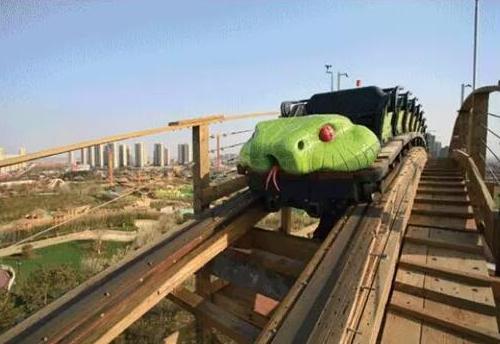 The headstock of the roller coaster is shaped like a snake, providing Bayu cultural symbolism for Chongqing's Happy Valley themed park. [Photo/liangjiang.gov.cn]
Swooping zero-g rotations will now provide extreme sports enthusiasts with a mid-air adrenaline fix at Chongqing's Happy Valley theme park in the Liangjiang New Area, opening to the public on June 18.
A wooden roller coaster, a new highlight of Chongqing's Happy Valley, finished its installation on May 31. At over 1,000 meters long, the roller coaster can run at speeds exceeding 100 kilometers per hour.
The roller coaster, built along a mountain, is made from North American pine. Anti-corrosive and anti-moth treatments will be administered to the roller coaster before it is put into use, ensuring appropriate security based on the climatic conditions of the city.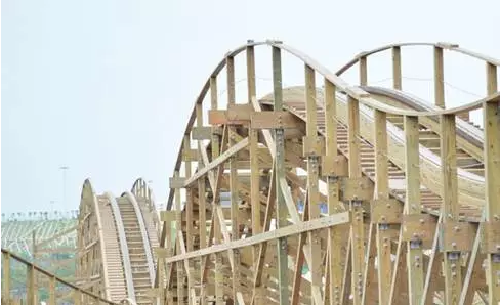 Over 1,000 meters long, the roller coaster is made of North American pine. [Photo/liangjiang.gov.cn]
The coaster, painted cyan, has a headstock shaped like a snake. "The snake is symbolic in Bayu culture. We built the snake-shaped roller coaster to provide a stage for our culture and color the theme park with Chongqing features," said a manager from Chongqing's Happy Valley.
Chongqing's Happy Valley is part of the Chongqing OCT cultural tourism project, integrating cultural tourism, entertainment, ecological leisure, themed business and communities. The city's investment in cultural tourism will exceed 50 billion yuan.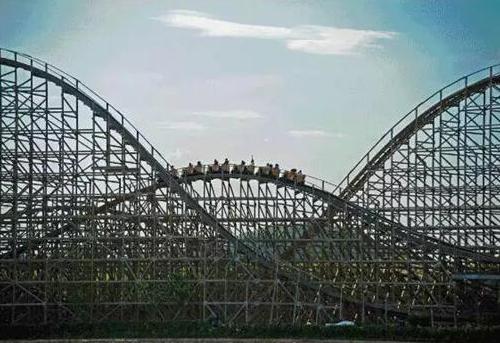 The wooden roller coaster, a new highlight of Chongqing's Happy Valley, has finished its installation on May 31. [Photo/liangjiang.gov.cn]
Edited by Zachary Dye