An 8.2-centimeter-tall porcelain cup dating from the Ming Dynasty (1368-1644) has begun exhibiting at Chongqing's Long Museum in Jiangbeizui CBD of Liangjiang New Area on March 30. The exhibition will run until July 2.
Referred to in English as the "chicken cup" on account of the ornate chicks that decorate the outside of the porcelain, has a worldwide reputation, one partly catalyzed by the 249 million yuan ($36 million) it fetched at Sotheby's auction in Hong Kong on April 8, 2014- a world record for Chinese porcelain.
The cup's quality is denoted by the fact it was forged in the imperial kilns and the Long Museum has set up a customized exhibition placing the cup in a special showcase room to best highlight its charming qualities.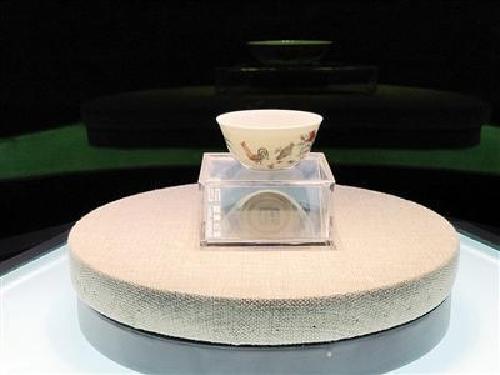 The "chicken cup" dates from the Ming Dynasty and is on display at the Long Museum, Chongqing, in Jiangbeizui CBD of Liangjiang New Area. [Photo/liangjiang.gov.cn]
According to the museum authorities, the cup remains in pristine condition and was made using the doucai method of fashioning porcelain that began during the Ming Dynasty.
Wang Wei, director of the Long Museum is excited by the arrival of the exhibition and recently discussed the significance.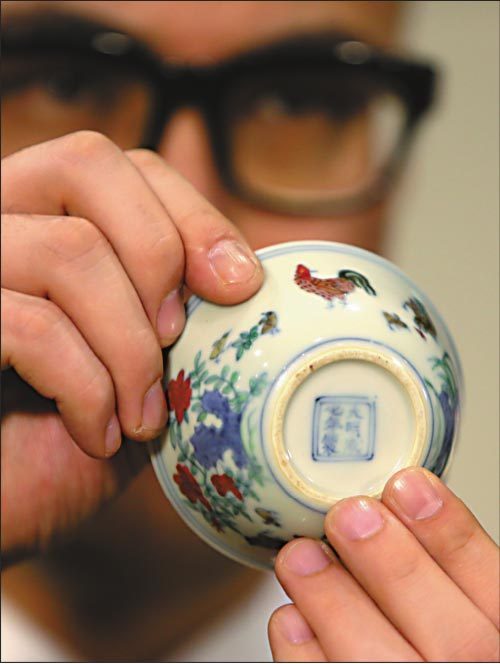 The "chicken cup" fetched HK$281 million ($36 million) to set a new record for a piece of Chinese porcelain sold at auction at Sotheby's spring sale in Hong Kong on April 8, 2014. [Photo by Li Peng/Xinhua]
"The cup has traveled a long way to arrive in Chongqing. It required complicated procedures to clear customs in Hong Kong and needed to obtain paperwork in Shanghai in order to reach this stage where the Chongqing audience has the chance to look at it close up."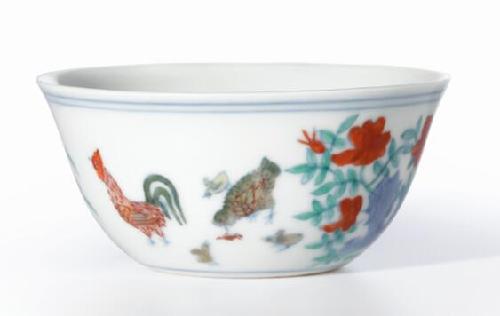 The "chicken cup" dates from the Ming Dynasty and here is shown in a photograph taken for the auction at Sotheby's spring sale in Hong Kong on April 8, 2014. [Photo provided to chinadaily.com.cn]
Edited by Richard Whiddington