A cup of warm coffee is often the first thing people turn to, to wake them up on a cold winter's morning. And soon the coffee lovers of Chongqing will have their own homemade brew to brew over.
Chongqing municipality launched the country's largest freeze-dried coffee production project on Nov 20, on the back of the 26th World Conference on Coffee Science which closed in Yunnan on Nov 19.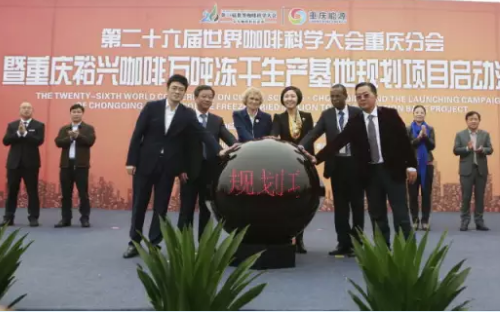 A launch ceremony was held in Chongqing Liangjiang New Area for the country's largest freeze-dried coffee production project, on Nov 20. It comes just a day after the 26th World Conference on Coffee Science closed in Yunnan. [Photo/liangjiang.gov.cn]
The project involves the construction of a processing plant at the Lianglu Cuntan Tariff Bonded Zone of Liangjiang New Area. Covering an area of about 112 mu (7.47 hectares), the plant is expected to be completed in 2018, and produce 10,000 tons of freeze-dried coffee, 2,000 tons of liquid coffee concentrate and 3,000 tons of roasted coffee beans per year.
Coffee consumption is perking up in China, with an annual growth rate of 10 to 15 percent. In the next decade, the consumption of coffee beans is expected to increase five folds to over 1 million tons, according to authorities.
Freeze-drying is a common method in producing high-quality instant coffee. The reason why freeze-dried coffee has grown in popularity is that the manufacturing technique allows coffee powder to be dissolved faster and brewed in water without losing the coffee's aroma.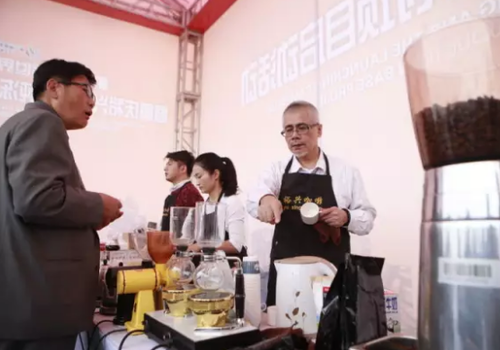 Staff members demonstrate the production process of freeze-dried coffee powder for guests. [Photo/liangjiang.gov.cn]
Chongqing has plans in the pipeline to become the world's third-largest coffee future's market, after New York and London. It also plans to gather over 1 million tons of coffee from other Asian nations, especially from Vietnam and Indonesia and transport them to Europe.
The project is a huge step for Chongqing and comes following the establishing of the Chongqing Coffee Trade Center in Liangjiang New Area this June. The center has created a total turnover of 2.26 billion yuan ($328 million) so far. Chongqing aims to perfect its coffee industry chain and find a rich blend development with local coffee companies.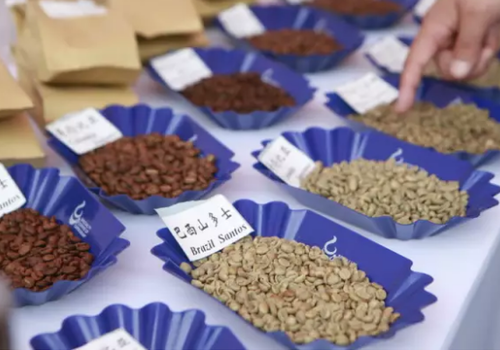 Coffee beans of different varieties from countries across the globe are displayed at the launch ceremony. [Photo/liangjiang.gov.cn]
Edited by Owen Fishwick