Extreme sports enthusiasts in Chongqing can now get their adrenaline fix under one roof at Jihua Garden Extreme Sports Center, which opened at the Longxing Industrial Park in Liangjiang New Area, Sept 28.
It means people living in downtown Chongqing no longer have to travel an hour out of the city – which is about the minimum time it takes to reach most extreme sports locations.
The venue includes an indoor wind tunnel to emulate skydiving, a wave machine for indoor surfing, an indoor rock climbing wall and a zip line.
The indoor skydiving allows visitors to experience the feel of wind rushing past them at terminal velocity while suspended mid-air. Wind speed can be adjusted in vertical wind tunnels (55 meters per second at most) to accommodate the varying abilities an aerodynamics of individuals.
The indoor rock wall area is the most comprehensive venue in southwest China.
The center also include areas for children's rock climbing, target golf, running and cycling tracks, and various retail shops to provide alternative activities.
Jihua Garden, a project launched by the Jihua Group Co, was established in the Liangjiang New Area in May 2014. It is a comprehensive business development encompassing a shopping mall, high-end hotels, an indoor extreme sports center and a large conference center. It will also develop its supporting service system including stores and hotels to improve the overall experience of extreme sports lovers of Chongqing.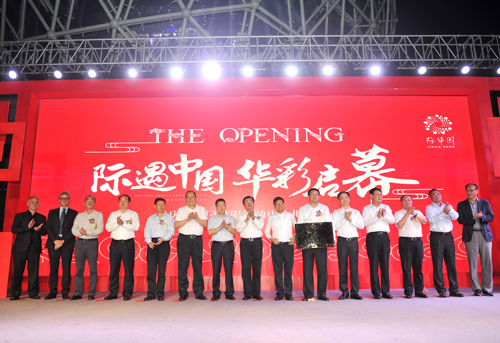 Jihua Garden Extreme Sports Center was inaugurated in the Longxing Industrial Park, Liangjiang New Area, on Sept 28. [Photo/liangjiang.gov.cn]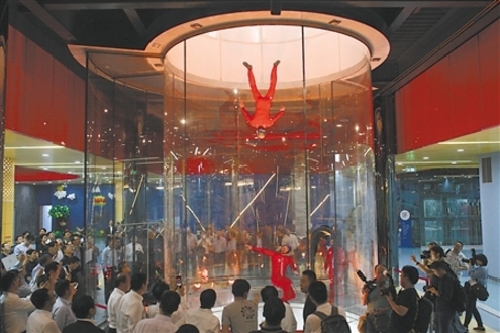 The indoor wind tunnel skydiving attracts crowds of visitors and media on its opening day. [Photo/liangjiang.gov.cn]