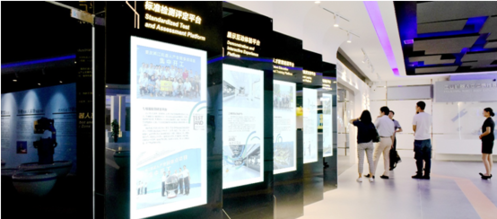 Visitors enjoy the robotics exhibition. [Photo/Liangjiang.gov.cn]
The Liangjiang Robot Exhibition Center has begun a trial period, opening to the public for free in Chongqing's Liangjiang New Area on July 29, according to Chongqing Liangjiang Robot Leasing Limited.
New intelligent robots from robot manufacturing companies will be displayed. The exhibition introduces the overall development of the Liangjiang New Area and the Chongqing Liangjiang Robot Industrial Park, as well as a blueprint for the future of the robotics industry.
Located on a 5,000-square-meter plot in Liangjiang New Area's Shuitu High-tech Industrial Park, the exhibition center gathered 23 well-known global robot enterprises, including Kawasaki, KUKA and Jiateng. Nine exhibition halls with different highlights will draw visitors' attention to a new world of robots.
The exhibition is expected to open officially this year. It is scheduled to be open from 9 am to 5 pm every day during the trial operation. Exhibition-goers can take bus No 568, No 965, or No 969 to get to the robot center.
China has become the biggest robot buyer in the world and more enterprises in Chongqing are bringing in robot equipment due to the increase of labor costs, attracting robotics companies to settle down in the Liangjiang New Area. The robot industry will be the focus for many economic strategists.