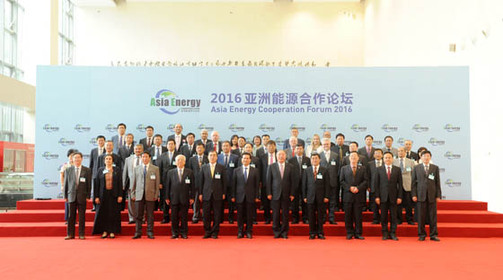 The conference attendees pose for a photo [Photo/liangjiang.gov.cn]
The Chongqing Liangjiang New Area opened the 2016 Asia Energy Cooperation Forum on June 27.
Attendees included government representatives, energy company entrepreneurs from about 20 Asian countries and experts of the International Energy Agency. They analyzed the Asian energy situation and sought cooperation at the meeting.
Wang Zhengwei, vice chairman of the Chinese People's Political Consultative Conference suggested holding regular meetings for Asian energy enterprises and experts and strengthening the communication among institutions including the energy industry associations, alliances and other related academic organizations. He also recommended forming an information exchange platform to minimize the uncertainty and asymmetry in the possession of energy resource information.
Huang Qifan, mayor of Chongqing, said that Chongqing will take advantage of "the Belt and Road Initiative" and the "Yangtze River Economic Zone" to strengthen its cooperation with foreign energy corporations. He said the city hopes to increase electricity utilization efficiency through promotion of the electricity allocation and sales business.
He also expressed his intention to cooperate with domestic and foreign companies in terms of exploration and exploitation of shale gas as Chongqing has one of the largest shale gas fields in the world.
H.E. Chinar Rustamova, ambassador from Turkmenistan, outlined the cooperation between her country and China in energy development to date and hoped that it would expand in the future.