A group of journalists from nine central media organizations including Xinhua and People's Daily visited Liangjiang New Area on June 6.
The visit was sponsored by the Publicity Department of the Communist Party of China (CPC) Central Committee and allowed the media delegations to investigate ways in which the new area has transformed and upgraded its industry.
According to an official from Liangjiang New Area, the area has made great efforts to improve its international competitiveness and become a main investing destination in West China.
Under the guidance of Zhang Xiaoguo, an official from the CPC Central Committee's Publicity Committee, the delegation visited the Liangjiang New Area Planning Exhibition Hall. While there, journalists learned about the strategic position of Liangjiang New Area, its location advantages and its industrial layout.
Relying on its location and industrial cluster, Liangjiang has played a significant role in promoting China's inland development. As a transportation hub, the new area has also linked inland China and overseas destinations.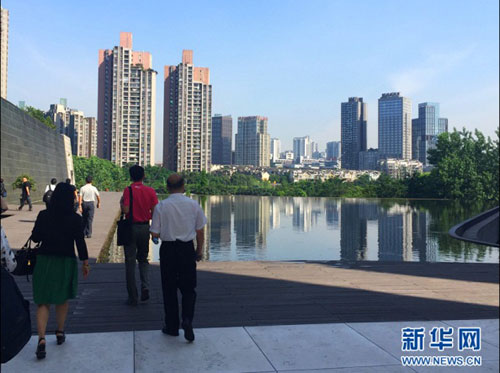 A central media delegation took a tour around Liangjiang New Area on June 6. [Photo/Xinhua.net]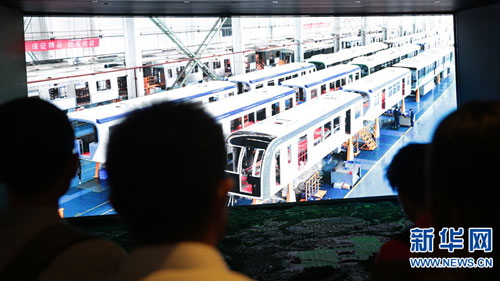 The media delegation stopped off at the Liangjiang New Area Planning Exhibition Hall on the day. [Photo/ liangjiang.gov.cn]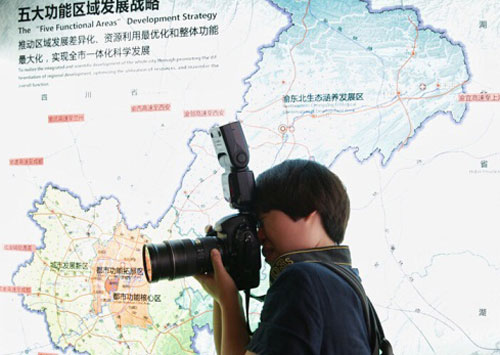 Journalists learn about the new area's "Five Functional Areas" Development Strategy on June 6. [Photo/liangjiang.gov.cn]
Edited by Jacob Hooson