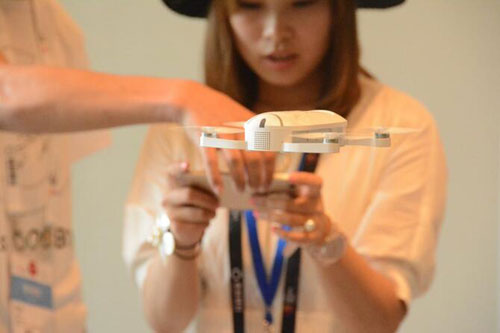 A Zero Tech staff member shows summit visitors the functions of Dobby. [Photo/liangjiang.gov.cn]
A recently-incorporated company from Jiangjiang unveiled a pocket-sized "selfie" drone at the Big Data Industry Summit in Guiyang on May 25.
The drone, named Dobby and created by Zero Tech, is smaller than most conventional drones and can be folded. Weighing in at a mere 199 grams, the drone is equipped with a 13 million pixels camera and contains face recognition technology and a one-click sharing function. Users will also have the option of controlling the drone by voice commands.
"We hope that more of our customers can use the selfie camera drone in different places," said Yang Jianjun, the founder of Zero Tech.
Zero Tech was founded by Yang in Beijing in 2007. The company has lofty ambitions to become one of the world's leading providers of intelligent drone products and smart drone turnkey solutions. In the last nine years, Zero Tech has made inroads into different areas, including agriculture, electric power and security. In 2015, Zero Tech released an agricultural UAV to improve the efficiency of agricultural spraying.
In recent years, Zero Tech has strengthened its cooperation with US telecommunications firm Qualcomm to promote the development of the UAV industry. At the beginning of this year, Zero Tech patented new technological innovations related to electronic image stabilization and binocular obstacle avoidance.
Zero Tech signed a cooperation agreement with Liangjiang administration committee in April to carry out cooperation in UAV research and development.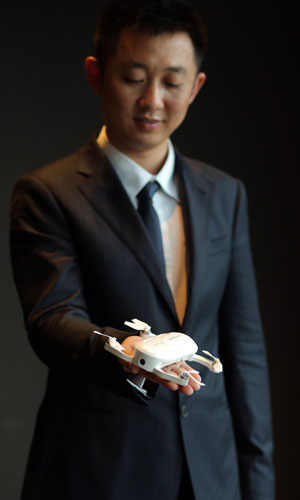 Yang Jianjun, founder and CEO of Zero Tech, holds the company's newly-launched consumer drone, Dobby. [Photo provided to chinadaily.com.cn]