Chang'an Auto's produced over one million cars in 2015, up 30 percent, Chongqing Daily reported. It is the first Chinese auto maker to exceed one million cars per year.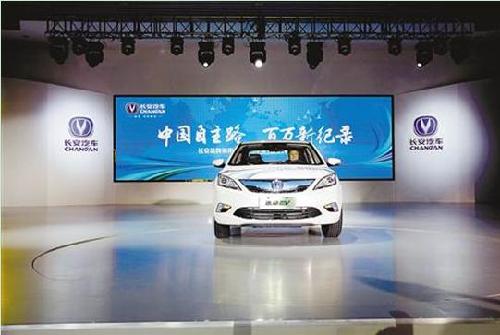 Chang'an Auto marks its millionth car at a ceremony on Dec 15 in Liangjiang New Area. [Photo provided by Chang'an Automobile]
Chang'an had good momentum this year despite the complex economic situation. It sold 2.53 million vehicles from January to November, up 4.8 percent.Annual sales are expected to reach 2.8 million.
Mayor Huang Qifan noted that this is not only a milestone for Chang'an Auto, but also for Chongqing's auto industry.
"Chang'an has been focusing on Chongqing and expanding to the whole nation in the past decade. It regards R&D as its priority, and its efforts in R&D are an example for all companies in Chongqing," said Huang.
Chongqing has formed an automobile industry cluster composed of 12 domestic and overseas brands, and over 1000 auto parts manufacturers.
The output in 2014 reached 2.65 million and is expected to surpass three million vehicles. New energy and smart automobiles have become the trend.
Chongqing will continue to offer services to automakers to facilitate their development.