Industrial upgrade helping Bohai area develop
Updated: 2011-10-27 08:06
By Tian Yang and Liu Xiang (China Daily)
| | | | | | | | | | | |
| --- | --- | --- | --- | --- | --- | --- | --- | --- | --- | --- |
|   | | Comments() | | Print | | Mail | | Large Medium  Small | 分享按钮 | 0 |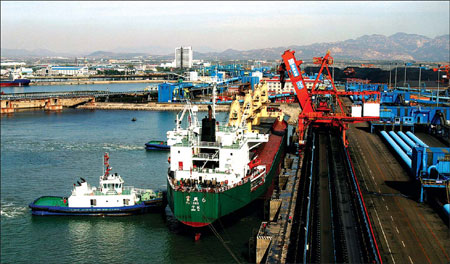 Ship loading at Qinhuangdao coal wharf.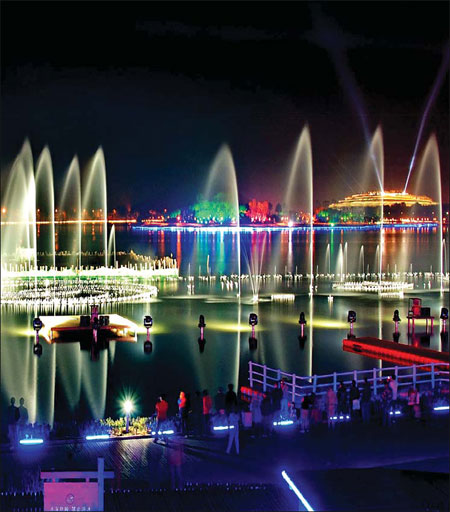 Musical fountain at Tangshan's South Lake Park adds a refreshing, relaxing touch to the locals' summer outings.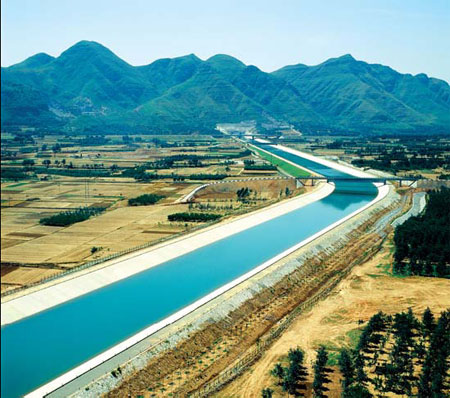 Caohe aqueduct of the province's South-to-North water diversion project.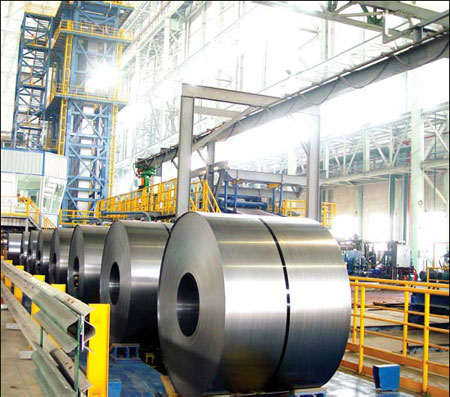 A cold rolled plate factory of Hebei Iron and Steel Group.
Hebei province is a key part of the Bohai Bay area that made some real progress in its economic and social development, from 2006 to 2010.
It has a population of more than 700 million, and had a GDP of 2.02 trillion yuan ($311.59 billion) in 2010 and a per capita GDP of 28,000 yuan, both of these almost double the 2005 figures.
What accounts for the rapid growth? Mainly, major structural changes: There are improvements in traditional industries like steel, machinery, and petrochemicals; and new industries, such as electronic information, medicines, and clean energy, were emerging.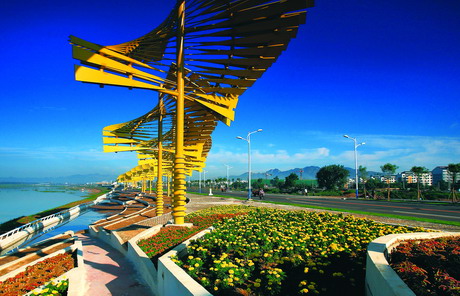 New outlook of Shihe
Last year, the added value of technology industrial output amounted to 122 billion yuan, or nearly four times the 2005 figure.
The service sector also developed rapidly, with added-value output amounting to 685 billion yuan, in 2010, or nearly double 2005's figure.
Transportation has also seen some improvements. There are more than 4,300 kilometers of highways by the end of last year, putting the province in third place in the country.
This year, it is planning on spending 65 billion yuan to add 400 km more.
Hebei also has a 5,300-km railway network, one of the longest in the country.
The aviation industry has really taken off in the past five years, and it now has four major airports at Qinhuangdao, Chengde, Handan and the provincial capital, Shijiazhuang.
They handled 3 million passengers last year, an incredible five times over 2005. The Shijiazhuang airport alone handled 2.7 million in 2010, up from 1.3 million in 2009.
This year, Hebei will spend 4 billion yuan on local airports expansion.
It also plans to spend heavily on its marine transportation.
The Qinhuangdao, Tangshan and Huanghua ports, already have an annual handling capacity of more than 100 million tons each, and are an important part of the country's distribution system.
The province handled 600 million tons of cargo last year, about a tenth of the nation's total, and it now ranks fifth among all the provinces.
The local government plans to double last year's spending, to 17.6 billion yuan, on six new berths, which will add 42 million tons in annual handling capacity.
Foreign investment in the province has been growing at an average rate of 14 percent over the past five years, and amounted to $17 billion for the 2006 to 2010 period.
Domestic investors are optimistic about Hebei's economic prospects, with telecommunications giants such as Huawei and ZTE adding facilities there.
Hebei's imports and exports were worth $153 billion over the past five years.
The urbanization rate increased to 45.5 percent, from 2005's 37.7 percent. But while there is a construction boom in the cities, local governments are keeping an eye on environmental protection.
Forest coverage now stands at 26 percent and urban air quality is favorable, 334 days out of the year.
The economy in rural areas is also growing, with last year's total grain output reaching 30 billion kilograms.
The local people have benefited from this modernization and economic growth. Per capita incomes of urbanites, last year, were 16,190 yuan, almost doubled from 2005, and those of rural people were 5,510 yuan, an increase of 58 percent.
Over the past five years, the province has created 2.65 million more jobs and the urban unemployment rate has been kept below 4 percent.
Monthly per capita retirement payments have been raised to 1,370 yuan, from 2005's 635 yuan, and 430,000 low-income families qualify for low-cost government housing.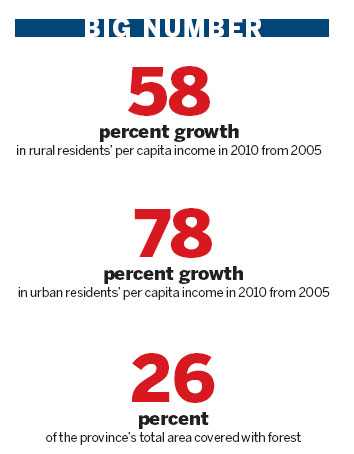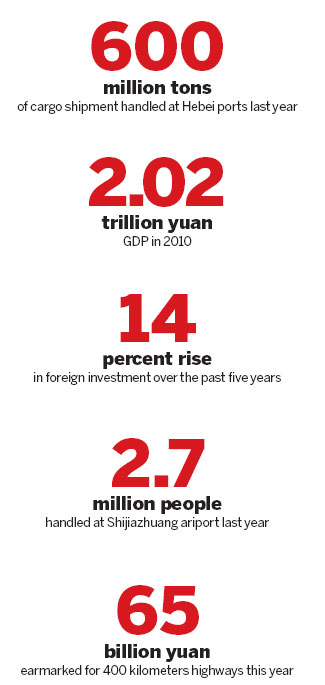 (China Daily 10/27/2011 page6)