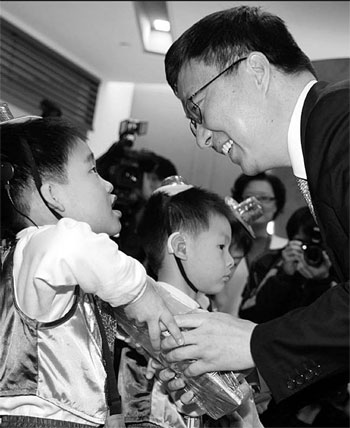 Han Zheng, the mayor of Shanghai, winds up his visit to Taiwan by distributing toys of Haibao, the official mascot of the 2010 World Expo, to children receiving treatment for hearing difficulties. [Dong Huifeng/China News Service] 
SHANGHAI: Shanghai mayor Han Zheng sealed memorandum of understanding on culture, tourism, high-tech industrial investment and environmental protection during his four-day trip to Taiwan that ended on Friday.
The documents are expected to strengthen the economic and cultural ties between Shanghai and Taipei, officials said.
Han also joined in activities promoting the upcoming Shanghai Expo.
Many saw a proposed free exchange of the yuan and the Taiwan currency during the six-month Expo that starts on May 1 as being particularly significant for Taiwan business people in Shanghai and neighboring cities in the industrial heartland of the Yangtze River Delta region.
Similarly, the opening of direct flights between the Shanghai Hongqiao International Airport and Taipei SonShan Airport as early as July was especially welcomed.
Han's visit was widely seen by Taiwan business people as "the beginning of a new phase in the ties between Taiwan and Shanghai", as the mayor said at a forum in Taipei.
Related readings:


 Shanghai mayor busy on last day of his Taiwan trip


 Mayor encourages local firms to invest in Taiwan


 Business leaders meet visiting Shanghai mayor


 Shanghai mayor arrives in Taipei to promote World Expo


 Shanghai mayor visits Taiwan; memo expected
"We should take advantage of this historic opportunity to seek further development," he said.
Many Taiwan business people in Shanghai welcomed the concrete steps made toward closer cross-Straits relations.
"Direct flights and a free exchange of currency will surely make our life in Shanghai more convenient," said Yeh Yuite, president of the Shanghai Longfong Food Co Ltd.
Yeh said Taiwan business people who have made long-term investments on the Chinese mainland have to bear increasing losses arising from the exchange rate because conversion between the New Taiwan dollar and the yuan must go through a medium currency, mainly the US dollar.
"The free exchange will bring a lot of convenience to us and other Taiwan visitors to Shanghai, as they won't have to take a lot of cash in hand," Yeh said.
As honorary president of Shanghai Taiwan Entrepreneur Association, Yeh said the Shanghai mayor is a "practical and thoughtful" person.
"He has done a lot of work to bring people of the two cities closer during his tight schedule in Taiwan," he said.
Paint retailer Hsieh Tsaiyu, a native of southern Taiwan, has been in Shanghai for 15 years.
"Currently, there are only direct flights to Shanghai Pudong International Airport, which is far from the city center," he said.
"Hongqiao is a lot more convenient for me because it's only 15 minutes away from my home by taxi," he said.
Lu Xiaoyan, secretary general of the Shanghai Taiwan Entrepreneur Association, said Taiwan businessmen all welcome the new direct flights, but they also hope there will be many more flights to help with the high demand.
"Direct cross-Straits flights started the last day of August 2009 and there are about 36 direct flights between Shanghai and Taipei every week. This is a great development, but many Taiwan entrepreneurs hope that figure can increase to 56 or 58 flights per week," Lu said.
"In that case, some of them will spend their weekend in Taiwan and come back to work on Monday."
A number of Taiwan business people also said they hope the free exchange of the two currencies will continue after the end of the Expo.
"Currently, the free exchange service will only be available at the Bank of Communications in Shanghai and it is only applicable during the Expo, which will end on Oct 31," said Chyi Luu, the general manager of a spicy hot-pot restaurant. His brother, Chyi Chin, is a Taiwan pop singer who was popular across the Straits in the 1990s.
"I hope the policy will outlive the Expo and become a regular feature."
Chyi Luu also spoke of other hurdles in doing business on the mainland.
"Small and medium-sized enterprises (SMEs) can receive more financial support in Taiwan, but here it is very difficult for them to apply for loans," he said.
"I hope the mainland will introduce some further ideas to promote and support the growth of SMEs."
China Daily