URUMQI: Maintaining social stability is crucial to preventing a repeat of the violence that erupted here last year, a senior official in the Xinjiang Uygur autonomous region said on Friday.
"The city's future depends on whether we have the overall social situation under control," said Zhu Hailun, secretary of the Urumqi committee of the Communist Party of China.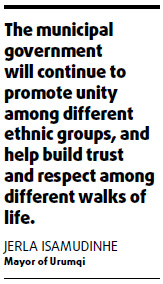 Speaking at a group discussion during the annual session of the city's People's Congress, he added: "Maintaining social stability and preventing unrest this year is the city government's top priority."
His comments echoed those made by Jerla Isamudinhe, mayor of Urumqi, the autonomous region's capital, on Thursday , when he promised a persistent crackdown on the "three forces" of terrorism, separatism and extremism.
Zhu replaced Li Zhi as Party secretary last year. Li was sacked by the central government for mishandling the July 5 riot in Urumqi, which left 197 dead and more than 1,700 injured.
The municipal authorities will invest 200-300 million yuan ($29-44 million) this year on technical measures, including installing surveillance cameras, said Zhu.
The city's police force will also be bolstered by new recruits, who will join about 20,000 other police officers, militia and security guards, in maintaining social stability, he said.
Related readings:


 Xinjiang set to beef up police forces


 Xinjiang will continue lifting restrictions


 SMS returns to Xinjiang


 Xinjiang security funding increased by 90 percent

A regional government spokesman this week said Xinjiang plans to add an extra 5,000 special police officers to its ranks, with 2,360 expected to be on the streets by the end of March.
"We have implemented measures to prevent social unrest, including reinforcing security teams in communities and improving emergency response systems," said Zhu.
Ex-convicts and other risk groups, as well as sensitive areas, will also be closely monitored, he said.
Spending on public security in Xinjiang will be about 2.9 billion yuan this year, up almost 88 percent on 2009, the regional government spokesman added.
"We will ensure there is no delay in the allocation of the funds for maintaining social stability," said Zhang Xinping, Urumqi's financial director. "A stable social environment is the foundation to all development programs."
The forthcoming seven-day Spring Festival holiday will test security forces in Urumqi, so "we have to effectively control the social situation in the city and deal with incidents decisively", said Zhu.
In his report to the People's Congress on Thursday, mayor Isamudinhe said: "We should be vigilant and high-handed in our fight against terrorism, separatism and extremism. We should stop all sabotage activities and attempts beforehand.
"The municipal government will continue to promote unity among different ethnic groups, and help build trust and respect among different walks of life. In particular, we'll step up ethnic unity education in schools."
The government will also closely monitor Internet content and clarify false information as quickly as possible to prevent rumors from spreading, he added.
Xinhua contributed to the story