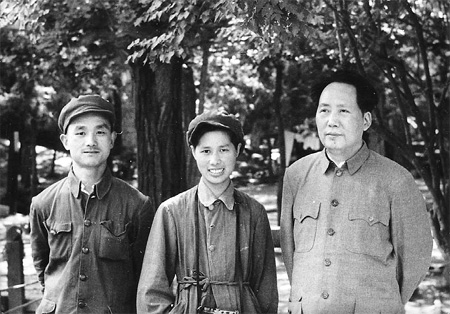 A file photo shows late Chairman Mao Zedong (right) with photographers Hou Bo and her husband Xu Xiaobing. [Courtesy of Hou Bo]
Chairman's woman photographer recalls long road to late statesman
Of the 700-odd officially published photo portraits of late Chairman Mao Zedong before he died in 1976, more than 400 were taken by photographer Hou Bo.
Mao's children themselves used to call her "Aunt Hou Bo."
Between 1949 and 1961, Hou lived and worked in Zhongnanhai, the headquarters of the Communist Party of China, as the official photographer for the central Party leaders.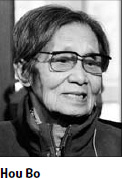 Until 1961, she was the only woman photographer in Mao's film crew, documenting his public and private life.
From 1986, Hou and her photographer husband Xu Xiaobing held photo exhibitions across the country, including Taiwan. They were invited to put on theme exhibitions in Japan, France, Britain, Germany, and the Netherlands, giving their testimony of historical figures and times.
They have also collaboratively compiled and published several photo albums and autobiographies. Their photo album Road, a collection of 187 photos taken through the years, won the National Book Award.
"As an official photographer, Hou has managed to avoid showing rigid and affected postures; she's given her subject a natural and vivid shot, thanks to her diligence and perseverance," said Zhang Zhaotang, one of the most important Taiwanese photographers during the past half-century.
Yet, when Hou was approached by French historian Claude Hudelot in 2001 for a documentary about the "red couple", she tried to shoot down the idea at first.
"We are nobodies; we have no big stories to tell," Hou told Hudelot.
But the 54-minute documentary turned out to be a real success, Hudelot said. It has been shown on mainstream French TV stations and other occasions more than 40 times since 2003.
Hou, 86, is still reluctant to tell the story of her journey, that of an orphaned peasant girl to the first generation of women photographers of New China.
Only when the hard times in her native village in Shanxi province and her orphanage were mentioned did the flood of memories begin to flow.
Her father, a laborer, was killed by a factory owner in a fight when his boss refused to pay him his wages. Her peasant mother died from poverty and grief soon afterward.
When Japanese aggressors launched a full-scale invasion of China in 1937, burning houses and slaughtering civilians, Hou was forced to flee through many places to Yan'an, Shaanxi province.
"Life was arduous but everyone had enough to eat, and we were all equal," she said.
In Yan'an, the seat of the Communist government between 1937-49, she managed to finish middle school and even made it to the Anti-Japanese Military and Politics University of Yan'an, studying politics.
In 1942, Hou married then soldier-cum-cameraman Xu in a one-room cave.
"About 10 friends gathered with us in our cave; we bought jujubes and dried buns, and we all sang together," she said.
Wars often kept the couple apart. While Xu, armed with a gun and his lenses, crossed the provinces from then northeast Manchuria to southwest Guangxi, Hou was in Changchun, Jilin province, where she learned photography from Japanese prisoners.
When the People's Liberation Army entered Beijing in January 1949, Hou and Xu reunited. In a garden in the Fragrant Hills west of Beijing, Hou's life turned around while she was assisting Xu to photograph Mao meeting foreign guests.
"Chairman Mao sat in a summer house and asked me where I came from and what I had done," she said. "When I answered him, he said to me, 'You grew up on the millet of Yan'an, so you must serve the people'."
From that day on, she became Mao's photographer. Her first big assignment was The Founding Ceremony on Oct 1, 1949, a photo later seen all over the world.
"I was always anxious when I took pictures of the country's highest-ranking leaders, even though we knew each other well," she said.
"I had sweat on my forehead, cold hands and feet. I often joked with my colleagues, saying that for every photo taken, I had a new strand of gray hair."
Hou remembered Mao's farewell words well, shortly before she was transferred to become a photographer in Xinhua News Agency, in March, 1961.
"For 12 years, you took a lot of very good pictures of me," he said.
Having endured the hardship of the revolutionary years and the suffering during the "cultural revolution" (1966-76), Hou said she has long learned to confront life's changes, glorious or catastrophic.
"I have nothing to regret," Hou told China Daily in an apartment near the Beijing Workers' Stadium, where she lives with her son and daughter-in-law.
Xu died in October last year.
"Now that grandpa (Xu) is gone, I would like to make use of my time to arrange the files he left behind," Hou said.