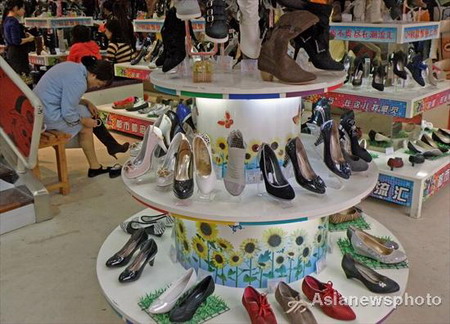 Customers try on new shoes in a shoe shop in Yichang, Hubei province. [Asianewsphoto]
China yesterday lodged a complaint with the World Trade Organization (WTO) over the European Union's (EU) anti-dumping duties on Chinese leather shoe imports.
This is the second time that China has taken the EU to the WTO for dispute settlement after the fastener case in October 2009. That matter is still under investigation by a Dispute Settlement Panel (DSP) of the WTO.
"China failed to get its concerns over the shoe case resolved after several rounds of negotiations with the EU," Yao Jian, a spokesperson for the Ministry of Commerce said yesterday.
"We intend to seek consultations with the EU under the WTO framework, and expect the EU to pay close attention to the issue and sort it out soon," he said.
Under the WTO framework, the two sides have two months to take part in consultations. If the talks fail, China can ask the WTO to set up a DSP to make a final decision.
Wei Yafei, a spokesperson for the Leather Machinery Institute under the China Light Industry Machinery Association, was not immediately available for comment.
In October 2006, the EU began levying anti-dumping duties of up to 16.5 percent against Chinese leather shoes, which lasted for two years. Last December, the EU governments sanctioned a 15-month extension of the anti-dumping duties on Chinese footwear imports, despite objections from some European nations and shoe manufactures.
Related readings:


 China opposes EU's extension of anti-dumping duties on footwear


 Outlook for Chinese exports still grim


 China's 2010 trade outlook shadowed by protectionism


 Anti-China protectionism could rise in the West
Chinese shoe manufacturers have urged the government to launch an appeal to the WTO against the duty extension.
"The investigation and ruling against the leather shoe imports from China runs against the WTO rules and hurts local enterprises," said Yao.
The ministry said recently statement that China is not optimistic about trade relations with the EU in 2010 as the nation would continue to be a major target for trade remedy measures.
"The decision to impose measures was taken on the basis of clear evidence that dumping of Chinese products has taken place and that this is harming the otherwise competitive EU industry," acting EU trade spokesman John Clancy said in a statement yesterday in response to news that China had requested formal WTO consultations over the measures.
According to the ministry, in 2009, the EU initiated seven new trade remedy investigations, all of which were anti-dumping cases against China. The EU also launched 12 review investigations against China in 2009, accounting for 50 percent of all the EU reviews conducted.