SHANGHAI -- Condoms will be available in all entertainment venues in Shanghai within three years, a senior health official said on Sunday.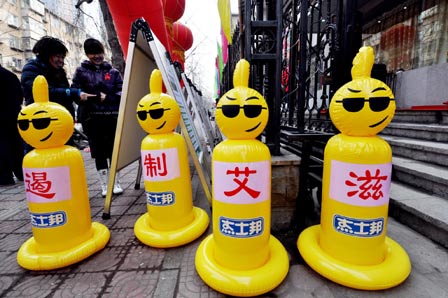 Giant cartoon condoms stand on a street in Shenyang, Liaoniang proince, to promote World's AIDS day on December 1, 2008. [Li Shuangqi] 
Xu Jianguang, director of the Shanghai health bureau, said there will be no "blind spots" in the authorities' vision to promote safe sex and counter the spread of HIV/AIDS.
By 2011, condoms will be on sale or provided free at every hotel, bar, beauty saloon, massage parlor and KTV outlet across Shanghai, he said.
Municipal and district governments will shoulder the cost of the initiative, he said.
Last year, the municipal government spent 14.5 million yuan ($2.1 million) on HIV/AIDS prevention, while district governments spent 17 million yuan promoting the use of condoms, Xu said.
Leng Guangming, from the Shanghai disease control and prevention center, said: "We have been focusing much of our efforts on the high risk groups that work in the entertainment industry.
"We tell them about the benefits of safe sex and give out free condoms, and also answer their questions."
By the end of last month, more than 200,000 condoms had been handed out to about 30,000 people working within Shanghai's entertainment industry, the bureau said.
Ole Hansen, an advocacy advisor with UNAIDS, told China Daily Monday that giving out free condoms to sex workers had been shown to be effective in reducing the incidence of HIV.
He cited similar campaigns held in Thailand and Cambodia.
"Providing condoms helps reduce risk, but I don't think it encourages prostitution," he said.
Shanghai reported its first HIV case in 1987. By the end of last month, the city had 3,747 people infected with the virus, the health bureau said.
In the first 10 months of this year, 736 new cases (602 men and 134 women) were reported, 26 percent more than in the same period of last year, it said. Fifty-nine percent of the infections were attributed to sexual intercourse, the bureau said.
In an interview with the Yangtze Evening News yesterday, Professor Kang Laiyi from the disease control and prevention center, said 20 percent of the new cases were a result of sexual intercourse between gay men.
This was a significant increase on last year, he said.
"Many people suffering from HIV are also well educated," he said.