Photography part of my life: Wang 
Updated: 2009-11-09 14:18
(China Daily)
| | | | | | | | | | | |
| --- | --- | --- | --- | --- | --- | --- | --- | --- | --- | --- |
|   | | Comments() | | Print | | Mail | | Large Medium  Small | 分享按钮 | 0 |
Preface
by Wang Wenlan
It was forty-two years ago that I pressed the shutter for the first time, with a borrowed camera. In those days, the camera was completely operated by hand, rather than automatically, including all the work of developing prints in the darkroom, therefore, the exceptional shooting skill was considered to be the key factor to a good picture.
At first I mainly took souvenir photos, I shot for others, for myself, or made some self portraits, and since then I have been more and more interested in photography. Now I can still remember how I indulged myself in appreciating the photos with a magnifier.
In the 1980s, I came up with new ideas about photography. To me shooting skills were no longer important, and what was considered to be more important was what to shoot. I began to heed the events and the society of that time. Meanwhile driven by the "strong impact" made by the society, I believed that photography's life depended upon those "decisive moments", which should be perfectly displayed in superb art quality.
Then, in the 1990s, art quality in my eyes did not seem to be the key factor to photography either. I did not particularly care about the light, the composition or the angel; neither did I wait all day long for one picture. I was ready to press the shutter wherever and whenever I got a chance, no matter I stayed indoors or outdoors, it was windy or rainy, or it was day or night. In my opinion, the trivial had become the important and the ordinary the valuable, and my job was to taken them down.
While the turn of the new century, even photography doesn't seem to be of the most importance to me, but it is something slipped into my life. I know that it is impossible for the photos taken by me to cover and illustrate the comprehensive nature and profound meaning of the human history; however I grow more desirable than ever to press the shutter and endeavor to take down as many aspects of the ever-changing world as possible. The reason for my doing so may be that I feel the time for my shooting work has become less, so I take pictures anytime and anywhere whenever I have a chance. Meanwhile I have a sort of strange feeling that photography no longer means a particular professional skill, but something that has become a part of my life. The photos collected in this album carry all the words I want to say.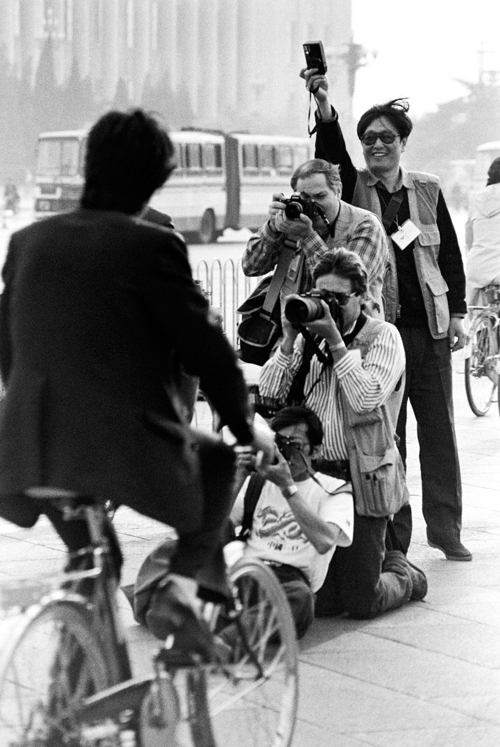 File photo of Wang Wenlan (1st,R)