A national nature reserve was allegedly wrongly punished for a butterfly promotional event in Central China's Henan province. Some activists on Tuesday raided the reception office of Baotianman Nature Reserve in Neixiang county, Nanyang city. It's suspected they were trying to avenge butterflies they believe were harmed by a promotional event.
It comes three days after hundreds of live butterflies were allegedy pinned to a model's dress to promote a butterfly festival in another scenic spot, which is also called the Baotianman Nature Reserve and located in Nanyang's Nanzhao county, about 120 kilo meters away from Neixiang county.
The Neixiang Tourism Bureau released a statement, denying any connection to the so-called Baotianman Nature Reserve in Nanzhao. The statement also said neighboring Nanzhao county is suspected of infringing on the name "Baotianman" because the nature reserve is legally located in Neixiang, rather than Nanzhao. Police have conducted investigations on the issue.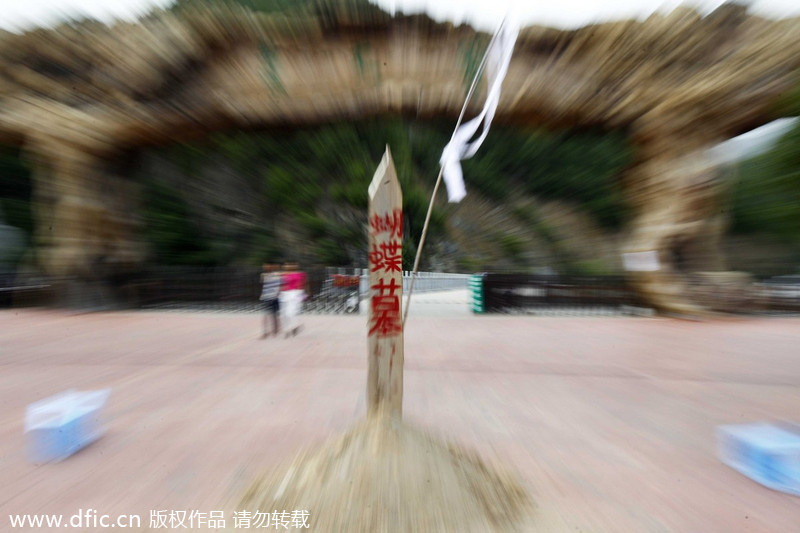 A tomb for butterflies is erected in front of the entrance to the Baitianman Nature Reserve in Neixiang county, Henan province, days after hundreds of live butterflies were allegedly pinned on a model's dress to promote a tourism festival in another scenic spot, which is also called the Baotianman Nature Reserve and located in Nanyang's Nanzhao county, about one-hour drive from Neixiang county.[Photo/IC]