Asia's largest realgar mine has been shut down but not before leaving behind a massive trail of arsenic contamination with sick and dying people in surrounding villages.
The 1,500-year-old mine in Baiyun township, Shimen county, in central China's Hunan province, was once prosperous and young people tried to land jobs there. Now it has become a toxic wasteland. The wealth once associated with mining realgar - a red or orange mineral containing both arsenic and sulfur - is now just a distant memory.
Arsenic contaminated soil and water has poisoned many local villagers.
More than 1,200 residents of Shimen, out of a total population of 3,000, have been diagnosed with arsenic poisoning, according to the county government.
Between 1971 and January last year more than 600 employees at the mine died from arsenic poisoning, more than 400 of who suffered from cancer.
People with arsenic poisoning are usually bedridden, unable to straighten their fingers and their skin is marked with dark bumps. If the complaint is not treated early it develops into skin or lung cancer.
Realgar, also known as "ruby sulfur" or "ruby arsenic", has been used as a red pigment in ancient China, India, Italy and Egypt.
Its other uses have been in firework manufacture, leather production and as a pest control because of its toxicity. It has also been found in Chinese medicine where it was mixed with rice liquor, for example, to make realgar wine.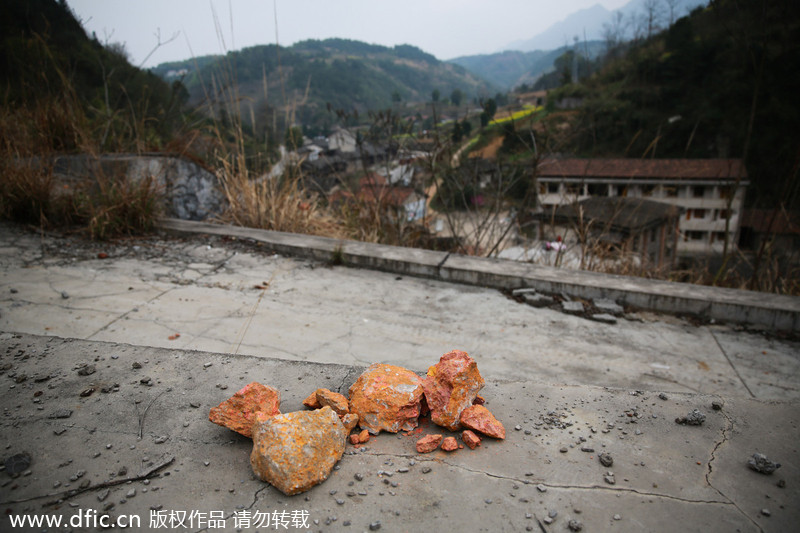 Realgar mineral rocks lay scattered around the village. [Photo/icpress.cn]