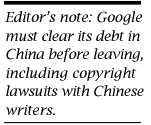 Whether it exits China or not, Google should honor its commitment to Chinese writers over its copyright infringements of online books. The appeal by the Chinese Writers Association (CWA) on Sunday is a timely reminder to the search engine leader that the issue remains unresolved.
The company's ongoing disputes with the Chinese government should not be an excuse for Google to dodge its due responsibilities in copyright violations with about 8,000 books of 2,600 Chinese writers.
Related readings:


 Google silent on copyright dispute


 China: Google breaks promise, totally wrong to stop censoring


 What's behind Google farce
In a formal apology to the CWA in January, the company, based in the United States, admitted that it had scanned books under Chinese copyright for its online library - the act triggered an outcry from Chinese writers. It also promised to produce a framework of an agreement through negotiations with the Chinese writers to resolve the issue by the end of this month.
However, it seems that opportunity for resolution is fading fast. Google had unilaterally cancelled and never resumed negotiations with the China Written Works Copyright Society since January.
If Google breaks its word with the Chinese writers, its credibility in China will only plunge deeper. The attempt to make its exit from China a political battle has already jeopardized the company's credibility and made it increasingly unpopular among Chinese netizens.
Any disrespect to intellectual property rights will also tarnish the company's image across the globe. Even if it decides to leave at a later date, the fact that it has infringed upon the copyrights of thousands of Chinese writers remains unchanged.
Google owes an explanation to Chinese writers whose rights it has blatantly trampled upon. If it cares about its image, it should come up with a new plan to address the issue in a timely fashion.
(China Daily 03/23/2010 page8)