Editor's note
Since Google's first announcement on Jan 13, 2010, that it was considering retreating from China, it has garnered worldwide attention. Google claimed its decision was a response to the Chinese government's censorship and hackers'attacks from China. It assumed that the Chinese government would amend its current laws to adapt to the company's requirements, turning the incident into a farce and resulting in its facing backlash from Chinese users.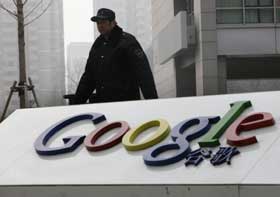 A man walks past the google logo in Beijing on March 19,2010 [Agencies]  
As the situation evolved, it was getting clearer that Google was backed by US government and politicians who intended to politicize the economic incident and attack China. While US government increased its pressure on China, a national outrage against US's finger-pointing spread across China, which backs the government to firmly hold its stance against Google and the US government and any politicians behind it.
Google has made a bad bet against the Chinese government and its netizens. If Google is not willing to comply with Chinese rules, leaving China is the best choice.
Comments on the incident
1 Why does Google.cn threaten to leave China?
2 No absolute internet freedom available,Chinese netizen enjoy unprecedented freedom.
3 Who will lose? Who will benefit?
4 Does China comply with the WTO rules to deal with Google case?