Two years ago, I wrote a column about how the early arrival of winter left Beijing residents shivering as we waited for Nov 15, the officially designated date for the start of central heating.
This year, winter arrived suddenly on Nov 1, with a heavy snow and temperatures dropping to minus 4 Celsius. According to the Beijing Meteorological Bureau, the snowfall was one of the heaviest in years and the earliest since 1987.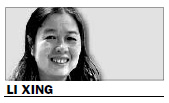 My colleagues and I are shivering in the office, but many of us now have warm homes to return to, thanks to the Beijing municipal government's decision on Sunday to fire up all publicly funded central heating facilities.
About one-third of apartment buildings in Beijing are already enjoying the blessing of central heating, according to local reports. The remaining homes and offices are expected to come in from the cold within a few days.
The city's decision to turn on the heat is a momentous change from a policy set nearly 60 years ago, when China was still struggling to feed and clothe its people. Central heating has been a perennial issue and one that has not always been fairly managed.
The government has also raised the minimum temperature in homes and offices from a chilly 16 degrees Celsius to a tolerable 18 degrees. Equally important, the city has appropriated funds to upgrade transformers in densely populated hutongs and to supply electric heaters to families living in low-rise houses, so they no longer have to rely on coal to heat their homes.
The Beijing government is to be commended for these moves, as it shoulders its responsibility to provide for the well-being of its 16 million residents.
For people living south of the Yellow River, the question is whether they will ever enjoy the comfort of central heating. According to a regulation written in the 1950s, central heating is not provided in areas south of the Yellow River. The regulation had some merit 50 years ago, because the south generally lacks coal and oil and the country didn't have the capacity to produce and transport fuel to the south.
Today, however, living without heating in cold, damp areas of South China is definitely a hardship. As their fortunes have improved, many people south of the Yellow River can now afford air-conditioners and electric heaters. But while their cousins to the North enjoy subsidized central heating, people in the South have to pay their own utility bills.
Even in Beijing, disparity exists. Some major plants are fully-funded and they actually provide expensive homes, hotels, and offices with more heat than they need, forcing them to waste energy by opening their windows.
However, smaller plants complain that they do not receive enough funding because the companies and homes these plants serve do not pay their heating bills. As a result, most people in these areas have to make do with temperatures below 20 degrees Celsius, because the plants that supply them are under-funded.
Environmental concerns make these decisions even more complicated. Local governments, hoping to limit pollution and emission of greenhouse gases, have been forced to burn more fossil fuels in order to turn on the heat two weeks early. In the long run, we must use energy more wisely, designing more energy-efficient buildings and insulating existing homes where possible.
When it comes to central heating, there are no easy answers. That is no excuse for failing to confront the issues, however. The Beijing government is to be applauded for tackling this perennial problem and making a difficult decision.
It is high time we stopped shivering.
E-mail: lixing@chinadaily.com.cn