OLYMPICS
/
Latest Medals
---
Russia defends Synchro swimming champion

Agencies
Updated: 2008-08-23 16:02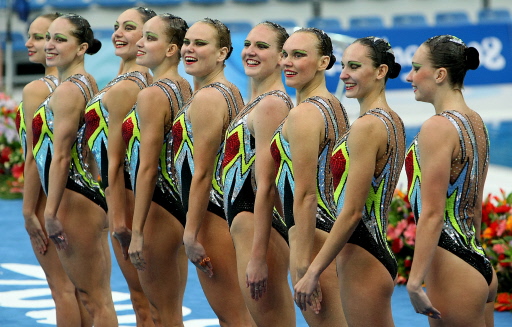 The Russian team listens to their scores following their performance during the technical routine of the synchronised swimming team event at the 2008 Beijing Olympic Games on August 22, 2008.[Agencies]
Beijing - Russian synchronized swimmers proved their invincibility after sweeping two gold medals in duet and team competitions at the Beijing Games.
The eight-member Russian team entered the free routine final with a top-ranking score of 49.50 points from the technical routine. They carried the lead to a decisive win with a performance of unmatched precision and power to a music piece of "life of the sea", scoring eight full marks to total 99.500 points.
The gold medal completes Russia's sweep in the sport after its duo Anastasia Davydova and Anastasia Ermakova won the duet gold on Wednesday.
"We were striving for it together, to be higher than everybody. It was really difficult but we are all really happy," said Rusisan team coach Tatyana Pokrovskaya.
Spain took its second silver following Russia with 98.251 points, while China surpassed Athens silver medal winner Japan to win the bronze, recording 97.334 points.
Both China and Japan staged a dragon themed performance, but the Chinese stood out in the tussle outscoring Japan by one point.  The bronze was the first synchronized swimming medal for China since it entered into the Olympic competition in 1988.
"The girls delivered their performance brilliantly. Our music (the Yellow River) was more powerful and the performance is more impressive than the Japanese team," Chinese coach Zheng Jia said.
Japan was sixth and the United States was fourth, which started the competition with a routine themed finding the light.
Hiromi Kobayashi, a Japanese swimmer, suffered breathing difficulties while doing the routine. She was immediately attended by doctors and has returned to stable conditions.