5m trips to be made from Kunming during chunyun
Updated: 2015-02-12 08:52
By Shi Zihan
(chinadaily.com.cn)
The 40-day travel frenzy surrounding Spring Festival in China, known as chunyun, started on Feb 4 and will run until May 15.
It is estimated that more than 5 million passengers will leave Kunming – the capital city of Southwest China's Yunnan province – by train during the travel peak, a 7 percent year-on-year increase.
Kunming Railway Bureau said it had geared up to full capacity to manage heavy demand by coupling more train carriages and running additional train services.
A total of 73 ticket vending machines and 654 ticket windows are kept open in all the stations in Yunnan province, 20 percent more than last year, in order to facilitate passengers getting their tickets.
Chinese tradition holds that people should spend the Spring Festival with their families, which creates the largest annual human migration in the world. About 2.8 billion trips are estimated to be made during the chunyun 2015.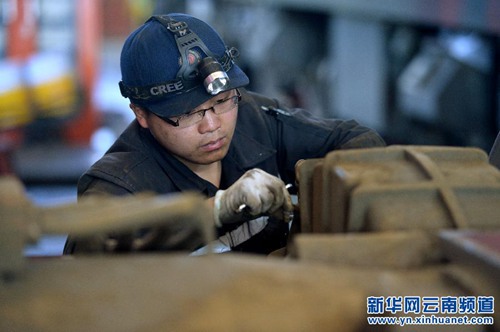 A worker in Kunming Railway Bureau overhauls the traction motor of a train carriage. [Photo/Xinhua] 
By Shi Zihan and edited by Mevlut Katik