President Xi highlights construction safety at Kunming new railway station
Updated: 2015-01-22 17:13
By Shi Zihan
(chinadaily.com.cn)
President Xi Jinping visited the Kunming South Railway Station under construction on Jan 20, urging construction safety and protection for the rights and interests of rural migrant workers.
Xi listened to the construction and development plans of the station and required directors of the project to tighten their inspection on the quality of building materials. When learning that Kunming planned to develop the south station into a hub in Southeast Asia, Xi said "A journey of one thousand miles begins with the first step." He suggested that what the city needs to focus on right now was how to perfectly and safely complete the construction.
Xi also asked about the metro construction in the station. He cared about the distance between the metro station and platforms and degree of convenience for passengers to get to the railway station by metro.
The Kunming South Railway Station is located in the southeastern part of the city and covers more than 120,000 square meters. The construction started on June 16, 2013 and is projected to be brought into operation in June 2016.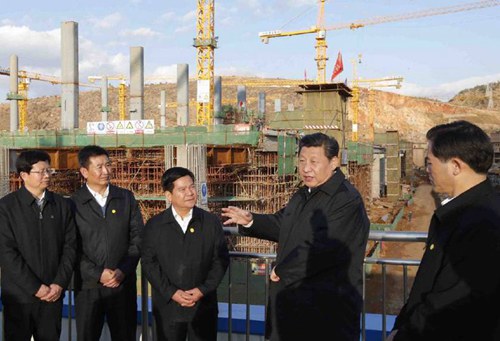 President Xi Jinping (second from right) visits the railway station under construction on Jan 20 in Kunming, Yunnan province. [Photo/Xinhua]
By Shi Zihan and edited by Brian Salter