Minsheng Bank to seek further cooperation with Kunming Hi-Tech Zone
Updated: 2014-09-11 17:16
By Shi Zihan
(chinadaily.com.cn)
Huang Lan, president of China Minsheng Bank Corp, Kunming Branch, visited the Kunming Hi-Tech Zone on Sept 9. Wang Minzheng, director of the administrative committee of the zone, met and warmly welcomed the guest.
Huang gave a background about capital operations at the CMBC Kunming Branch to Wang and outlined the cooperation projects between CMBC and the Kunming Hi-Tech Zone. She said that the cooperation with the zone in recent years had been rewarding for both sides. She hoped that a closer cooperation could be realized in the future. Huang also promised that CMBC would keep pace with the zone's development and provide the zone with superior services.
Wang expressed his gratitude to CMBC Kunming Branch for their support and assistance over the years. He also praised their innovative spirit in products and management. Wang said that the Kunming Hi-Tech Zone would enter a new climax of construction. He hoped that CMBC would support the zone's development as usual.
The two sides discussed future cooperation in credit and loans for small and micro businesses, the listing of companies within the zone, the development of a business incubator, and the finance of science and technology.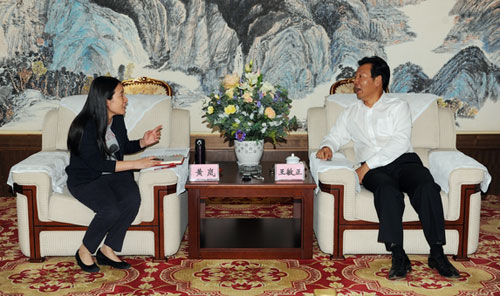 Wang Minzheng, director of the Kunming Hi-Tech Zone, meets Huang Lan, president of CMBC Kunming Branch, and discusses coopreation on Sept 9 in the zone in Kunming, Yunnan province. [Photo/kmhnz.gov.cn]
By Shi Zihan and edited by Brian Salter