Fang Kahua: Young jade carving artist in Yunnan
By Ge Jieru ( chinadaily.com.cn )
Updated: 2015-02-10
Fang Kahua, a young jade carving artist who was born in 1979, has been awarded the honorary title of National Jade Carving Master, according to Spring City Evening News.
Fang started learning wood carving art at the age of 13 and studied the craft in Pu'tian, in Southeast China's Fujian province. In 1995, Fang expanded his skills and started to learn jade carving in Southeast China's Guangdong province.
"I was attracted by the perfect color of jade and its unique cultural background," said Fang. After already having learnt the basics of wood carving, Fang finished learning of basics of jade carving craft in just three years.
In 2003, Fang left Guangdong for Southwest China's Yunnan Ruili, to start learning jade carving from the local masters there. Different tutors in Ruili brought Fang a completely new understanding of the art of jade carving, according to Fang.
In the Sixth National Strait Crafts Exhibition in 2011, Fang's art works won many honors, thanks to their unique designs and exquisite carvings.
In 2012, Fang became the apprentice to Gu Yongjun, one of the few specially designated 'cultural inheritors', specializing in Chinese jade carving. In the same year, Fang established the Xinxin Hualong Cultural Development Company in Yunnan's Mangshi city. Mangshi is located in Yunnan's Dehong autonomous prefecture which borders Myanmar.
At the same time of receiving success, Fang started to help those suffering from disabilities in the country.
"In Guangzhou and Fujian, there are scaled wood carving and jade carving enterprises for disabled people to work. However, there's no company in Mangshi doing this," said Fang.
Fang established a jade carving training base with the support of the Yunnan Organization on Disability and the Dehong autonomous prefecture organization on disability.
In addition, Fang's art work, 'Long Hu Hui' won the Golden Award at the 2013 Chinese Dragon Awards.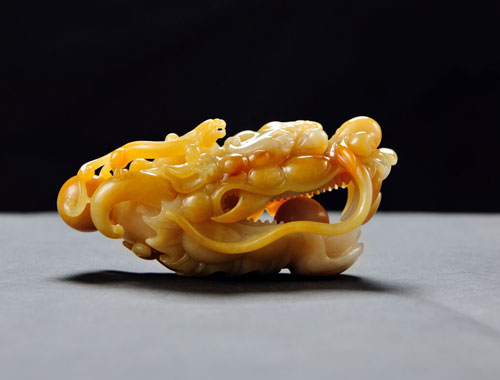 Jade carving art work Long Hu Hui by Fang Kahua [Photo provided to Chinadaily.com.cn]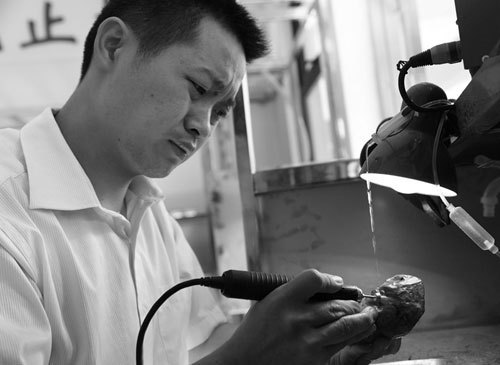 Fang Kahua carves a jade art piece [Photo provided to Chinadaily.com.cn]