Tianjin Port launches ten new shipping routes for container carriers
By Liu Yiyi (chinadaily.com.cn)
Updated: 2015-10-14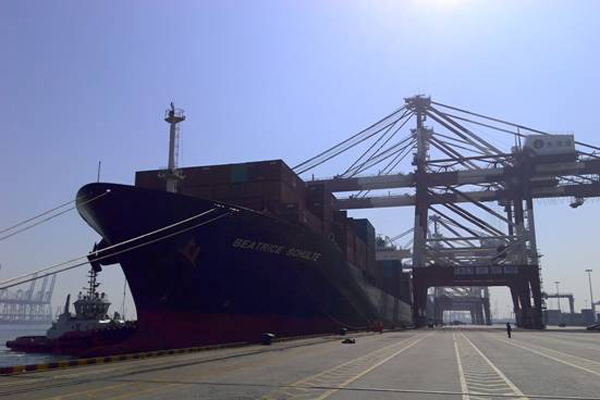 Zim International Shipping Company's "Beatrice" container carrier arrives at the Tianjin Port on October 13. [Photo provided to China Daily]
Seizing the opportunity of the Belt and Road initiative, the integrated development of Beijing, Tianjin, and Hebei, the establishment of Tianjin Pilot Free Trade Zone (Tianjin FTZ), the accelerating opening-up of the Binhai New Area, and the construction of the national innovative demonstration area, the Tianjin Port Group greatly pushed forward the built of the shipping center in the North China and continuously improved the city's strategic position in the country's most updated opening-up pattern.
Zim International Shipping Company's "Beatrice" container carrier, as the first vessel departing from the east coast of the Mediterranean Sea, arrived at the international container wharf in the Tianjin Port on October 13, which marked the launch of a new ship route for container carriers.
The Tianjin Port Group launched a campaign called "21st century oceanic silk road" and initiated a total of ten ship routes personalizing for container carriers taking into account the new ship route from the Mediterranean Sea.
More than 300 container carriers departed from the Tianjin Port and headed to international ports every month, which further highlighted the city's important and strategic position in the construction following the Belt and Road initiative.
The Tianjin Port has great advantages in geographic location. It is the east starting point of the Silk Road Economic Belt and is an important departing port on the Oceanic Silk Road. It connects the Middle West Asia, Mongolia, Russia, and other parts of Europe in the west and north. It also covers Northeastern Asia, Southeastern Asia, Europe, America, and Africa in the east and south on sea.
Zim International Shipping Company invested nine container carriers running on the newly launched shipping route in a weekly operative base. The "Beatrice" recently arrived at the Tianjin Port brought around 1,500 standard containers which included cargos such as steels, agricultural products, electronic commodities, parts and accessories for bicycles, medal pipes, and fruits and vegetables.
The cargo handling capacity of the Tianjin Port from January to September reached 403 million tons, which include 1033.8 standard containers. A total of 223,000 standard containers were shipped through the sea-railway combined transportation, which increased 46.1 percent year to year.