International connection
Updated: 2012-03-14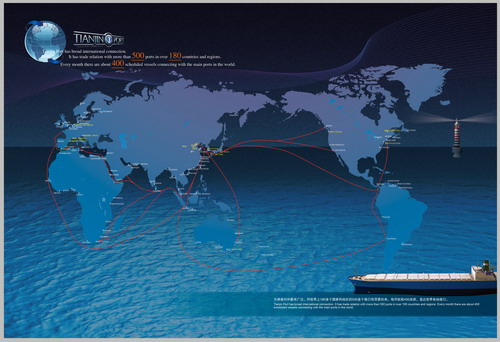 Tianjin Port has broad international connection. It has trade relation with more than 500 ports in over 180 countries and regions. Every month there are about 400 scheduled vessels connecting with the main ports in the world. It possesses strong economic radiant power. The hinterland is almost 5 million square kilometers, accounting for 52 percent of total Chinese area. Presently, approximately 70 percent of the cargo throughput and more than 50 percent of the import and export cargo value via the port come from the provinces outside Tianjin.
Possessing the specialized terminals respectively for containers, iron ore, coal, crude oil and petrochemical products, steel, machinery, ro-ro vehicle, bulk grain, bulk fertilizer and international cruise, Tianjin Port is one of the coastal ports with the most complete functions in China.
The service function of Tianjin Port is perfect and the promotion to regional economy is strong. There are three Eurasia continental bridge passages in Tianjin Port with largest continental bridge transport volume. The Tianjin International Trade & Shipping Service Center is the largest "one stop service" shipping service center and digital port in China at present. The 23 inland dry ports further improved the logistics network in hinterland.