Mount Tai's king of clay
(chinadaily.com.cn) Updated: 2017-02-16
Xuan's talent and dedication to his art is remarkable, and his work has won praise from experts both in China and abroad. But perhaps even more impressive is his determination to keep the art of clay sculpting alive and to pass on his skills to the next generation.
When he is not working on his own sculptures, Xuan teaches clay sculpting in ten primary schools around Tai'an.
"Schools provide a great platform to carry forward our traditional culture. And outstanding crafts should be introduced and taught to our children at an early age," he says.
In his family's traditional courtyard home, Xuan also runs a 600-square-meter museum dedicated to Mount Tai clay sculpture. Consisting of a research center, an exhibition area and a practice base for schoolchildren, the museum is designed to better promote and develop the art of clay sculpture.
Xuan's Herculean efforts are beginning to pay off. Daiyue district government has granted him 80,000 yuan ($11,647) to support the museum's preservation and education work.
Even more importantly, with the constant efforts from all levels of governments in Tai'an, Mount Tai clay sculpture has been added to Shandong province's official list of intangible culture heritage, and Xuan has been appointed the provincial inheritor of Mount Tai clay sculpture.
There are many stores selling traditional arts and crafts in scenic spots around Tai'an, and Xuan has also seized the opportunity to promote clay sculpture to tourists during the holidays.
"There are many young people among the tourists visiting Tai'an. And through direct contact and experience, they can generate interest in Mount Tai clay sculpture, which will increase young people's awareness of the art form," he says.
Xuan's next project is trying to create a new way to combine traditional Mount Tai clay sculpture with Tai'an's emerging creative industry, with the hope of developing it into a well-known cultural brand.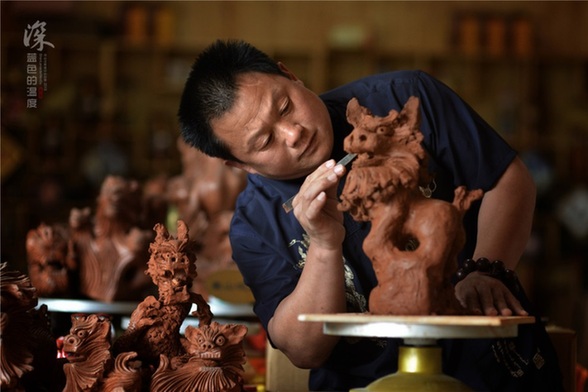 Xuan Xudong adds the finishing touches to a clay sculpture. [Photo by Zhang Jie/tarb.cc]