The First Shanxi Cultural Industries Fair
By Zhou Yuanyuan ( chinadaily.com.cn )
Updated: 2013-06-20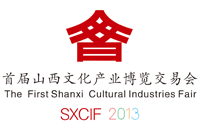 The 1st Shanxi Cultural Industries Fair, hosted by the Shanxi Provincial Party Committee Publicity Department, will be held in Taiyuan, capital of Shanxi province, from June 29 to July 3, and aims to upgrade Shanxi cultural industries.
The fair, with a theme "A cultured and beautiful Shanxi", will include more than 1,500 standard exhibition booths in 7 exhibition areas, with more than 1,000 companies participating in the event and more than 10,000 kinds of cultural products displayed. The event will feature various activities, such as cultural exhibitions, cultural trading activities and cultural cooperation.
The logo of the 1st Shanxi Cultural Industries Fair is derived from the ancient Chinese character Jin (晉) which is an abbreviation for the name of the province - Shanxi. The logo combines three Chinese characters, the modern form of Jin (晋), and also Wen (文, culture), and Hui (会, fair). Its lower half features the Chinese character meaning "day": Ri (日). The shape of the logo resembles Shanxi's early ancient architecture, and the logo combines both modernity and tradition.
Overview of the 1st Shanxi Cultural Industries Fair
Cultural reform: focusing on the achievements of cultural reform and development in Shanxi in recent years.
Cultural industry: notable successes in fields including media, broadcasting and TV, film and art.
Intangible cultural heritage: displays representing national and provincial level non-material cultural heritage.
International level cultural arts and crafts: artwork of Shanxi artists - including ceramics, glass and lacquer
A series of cultural trading activities
Cultural trade activities: includes a ceremony relating to key cultural industry projects, auction of works of art, competition relating to non-material cultural heritage art, symposium of deans of art academies from all around China, live shows featuring international artists, and an awards event rewarding outstanding cultural products.
Artistic performance: international art performance and provincial classic operas.