Chinese provincial delegation visiting Costa Rica
By Zou Yaling ( chinadaily.com.cn )
Updated: 2013-06-03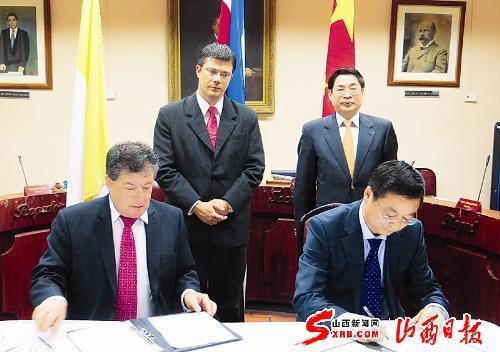 Sister-city signing ceremony for Lvliang, Shanxi province and Heredia, Costa Rica  
A delegation from Shanxi province, led by Yuan Chunqing, the Party secretary, is visiting San Jose, the capital of Costa Rica, and another city, Heredia, as part of a two-day visit to discuss urban development, the low-carbon industry, and cultural tourism.
The delegation arrived on June 1 and met with the mayors of San Jose and Heredia, with Yuan saying that, although China and Costa Rica have not had diplomatic relation for long, they already have fairly healthy, stable relations and have cooperated in various ways, bringing benefits to both of the countries' people.
Yuan went on to say that he appreciates Costa Rica's developmental ides, which emphasize environmental protection, and explained that Shanxi is putting a great effort into sustainable development,and hopes that Costa Rica and Shanxi can increase cooperation in education, tourism, culture, trade, energy-saving developments, and environmental protection, so that their people can achieve mutual understanding and greater friendship.
In a meeting with Song Yanbin, China's ambassador to Costa Rica, Yuan thanked Song for his help during the Shanxi visit, and said he hopes Ambassador Song can continue to help Shanxi in its trade and economic communications with Costa Rica. Song responded by saying he will do his level best to promote cooperation and communications by acting as a bridge between the two.
Edited by Zhou Yuanyuan and Roger Bradshaw