Street scenes
By Xu Lin ( China Daily )
Updated: 2013-02-08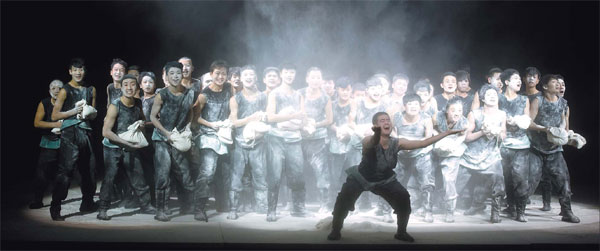 A new performance transforms the theater into an ancient town. Xu Lin reports.
It's a bustling ancient street full of people clad in traditional white robes. A boy vendor who's carrying a big tray of steamed buns suddenly falls over. A woman using scissors to make a traditional Chinese paper-cut asks if you've recently seen her relative. These scenes from the late Qing Dynasty (1644-1911) come from director Wang Chaoge's latest work, Another Glance at Pingyao. The production, which took a year and a half to complete, will debut in February in Shanxi's Pingyao city. Tickets cost 298 yuan ($47.80). "It's rare to see such a performance, which is more like a living museum or time-travel experience," Wang says. "Sometimes, we're witnesses and sometimes involved. So, we get the whole story through the fragments our ancestors have left behind." Impression Liu Sanjie, which Wang co-directed with Zhang Yimou and Fan Yue in 2003, remains one of China's most popular and profitable performances. The Impression series now has seven installments, all of which are set on famous mountains, or the banks of renowned rivers or lakes.
Pingyao, a UNESCO World Heritage site, attracts tens of thousands of tourists every year who come to see its well-preserved old quarters, which boast a history spanning more than 2,700 years.
Rather than watching the show from their seats, audiences walk around the theater, which has been renovated to look like the ancient town. They go wherever they like and talk to whomever they wish.
"It's an experiment in mixing up space," Wang says.
"It's interesting for the audiences to interact with the performers. They have a more vivid experience because they're walking during the show."
There were comparable shows in the West decades ago, she explains, but few became regular performances.
"I'm nervous about whether you'll like my bold exploration and whether people can understand such a complicated story about family bloodlines in a casual environment," she says.
The plot centers on Pingyao exchange shop owner Zhao Yishuo, who spent all of his money to save the son of his subordinate in Russia.
Zhao and 232 armed escorts die seven years later, but the son returns to carry on the family's bloodline. Ultimately, the show is about the kindness and loyalty of Pingyao's people.
The theater covers more than 10,000 square meters near the ancient town. It looks like a mansion built with loess and tiles, which are common construction materials in the area.
Every shop, including the vinegar store, silk store and pharmacy, has its own story. There are too many interweaving plotlines for audience members to grasp them all, Wang says.
Another innovation is that attendees are directed into two entrances that lead to different versions of the show and don't meet until the final dance in a small traditional theater.
"It's very challenging to guide the audiences, who are free to talk and stroll as they please, to where I want them to go," Wang says.
"But that's what I'm striving for."
She has devised a few tricks. For instance, several percussionists gather on the street to beat drums until the crowd gathers around them, at which point they lead the audience to the theater for the final dance show.
More than 80 percent of the 150 performers are locals, who have been training for more than seven months. They are often embarrassed when audiences take photos with them or ask them such questions as "where's the toilet?" or "are you a performer?"
Wang says she trains actors to deal with such situations. They should reply: "I'm from the Qing Dynasty, and I've got no idea what you're talking about".
Wang's next production is Another Glance at Mount Wutai, which is about the history and culture of the namesake mountain in Shanxi.
Contact the writer at xulin@chinadaily.com.cn.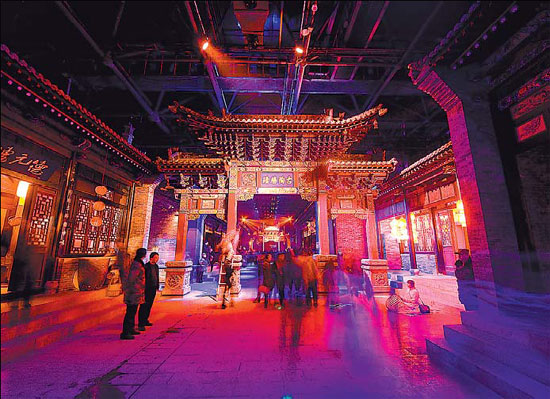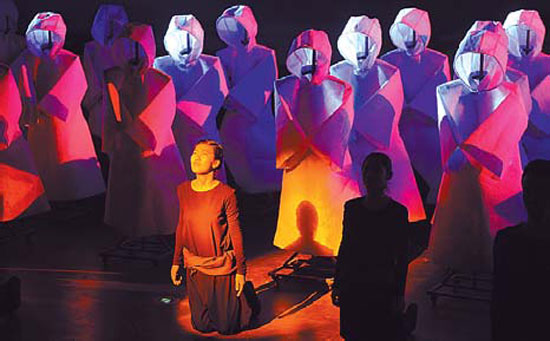 (China Daily 02/08/2013 page18)