This river dance features dragons
By Wang Shanshan
Updated: 2012-08-30
TAIYUAN: On the 15th day of the first month of the Lunar Calendar each year, Wu Xia and her fellow villagers walk 10 miles to the "99 Turns of the Yellow River", where they perform a dragon dance on the banks of this twisting section of China's Mother River.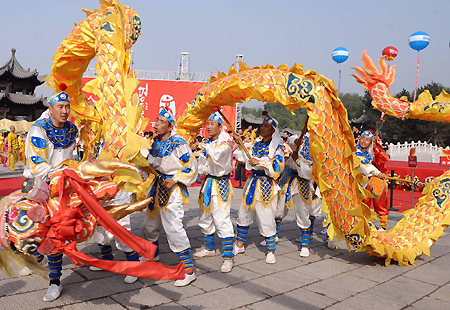 Folk artists perform a dragon dance before the Beijing Olympic torch starts its relay in Taiyuan, Shanxi Province, June 26, 2008. [Xinhua]
More Photos
The farmers who live beside it believe if they perform the dance for five days in a row during the Spring Festival, they will have a peaceful year.
"Sometimes, there can be more than 100 dragons all dancing at the same time. The performers come from local villages," Wu, a 50-year-old farmer from the village of Dongmu in Taiyuan, capital of Shanxi province, said.
"But this has been the greatest moment of my life, performing the dragon dance for the Olympics and for my country," she said.
Wu and 35 other women from Dongmu danced Thursday at the launch ceremony for the Olympic torch relay in Taiyuan.
They formed one of eight teams that took part in the performance, which involved dragons competing with each other to the beat of drums.
"These are the best teams from villages along the river in Shanxi. We meet at the 99 Turns every year," Wu said.
As leader of her team, Wu waved a symbolic "ball of flames" made from cloth in front of the dragon, to make it jump, twist and turn.
"We learned dragon dancing after we got married to men from the village and moved there.
"Now, our husbands are all working in the city, but we still like to practice the dances. It is our main source of fun and we do it whenever we are not busy in the fields," she said.
The village has been known for its dragon dance since the beginning of the Ming Dynasty (1368-1644).
It is also one of the few places in the country that includes women among the main performers.
"Men are stronger, but women are more devoted," Wu said.
The dragon dancers performed at the gate to the 2,000-year-old Jinci Temple in the suburbs of Taiyuan, the starting point for yesterday's relay.
The run involved 208 torchbearers and took in key locations in the downtown area of the city, and also the factory compound of Taiyuan Iron & Steel Co Ltd, one of China's largest steel-makers.