Shandong releases top archaeological discoveries for 2019
(chinadaily.com.cn) Updated: 2020-07-10
The Shandong Provincial Department of Culture and Tourism held a news conference on July 9 to announce the province's top five archaeological discoveries in 2019, as well as the top five field archaeological sites for 2018-2019.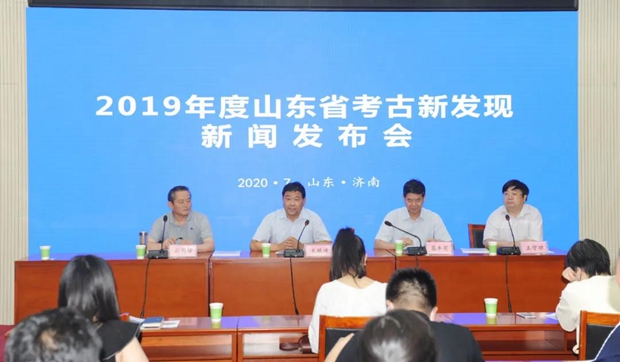 A news conference is held on July 9 to introduce Shandong province's archaeological work. [Photo/WeChat account: sdswltwx]
Top five archaeological discoveries of 2019 in Shandong
1. Sujia village ruins in Rizhao city, which house cultural artifacts from the late Dawenkou culture (4100-2600 BC) and early Longshan culture (about 3000-2000 BC)
2. Xichen site in Qufu, which is home to a trove of cultural relics from the Shang (1600 BC-1046 BC) and Western Zhou (1046 BC-771 BC) dynasties
3. The rammed earth site on the west side of the Qi ancient city in Zibo. Zibo is the capital of the ancient Qi state, one of the most powerful states in China for more than 800 years during the Spring and Autumn Period (770-476 BC) and the Warring States Period (475-221 BC).
4. Dahan tomb in Tengzhou, which dates from the Eastern Zhou Dynasty (770-256 BC)
5. Sanguanmiao tomb in Jiyang district, Jinan, which dates from the Han Dynasty (206 BC-AD 220)
Top five field archaeological sites of Shandong for 2018-2019
1. Ximengzhuang site in Tengzhou, associated with Longshan culture from around 4,000 years ago
2. Niutuiguannan site in Zhangqiu district, Jinan, which dates from the Eastern Zhou Dynasty (770-256 BC)
3. Dahan tomb in Tengzhou city, which dates from the Eastern Zhou Dynasty (770-256 BC)
4. Wangjialou tomb complex in Huangdao district, Qingdao, which dates from the Han Dynasty (206 BC-AD 220)
5. Haibei site in Kenli district, Dongying, which dates from the Song (960-1279) and Jin (1115-1234) dynasties