Painting a hopeful picture
By Wang Qian (CHINA DAILY) Updated: 2020-06-04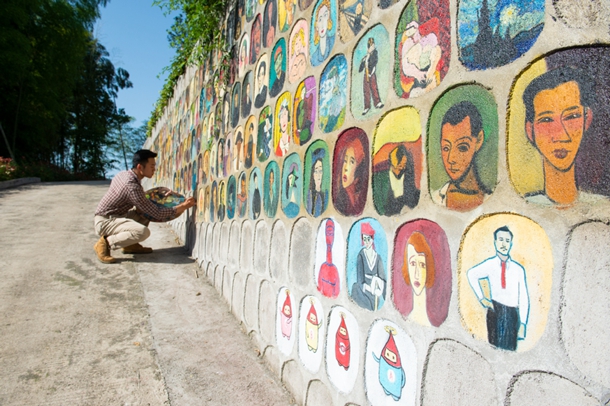 Liu Zhiwen, a senior student majoring in oil painting at the College of Art, Qingdao University of Science and Technology, paints on a wall in his hometown Daowu village, Hunan province, in May. The painted wall has become popular online and attracts many visitors. [Photo provided to China Daily]
Face masks, social distancing, these are tough times amid the novel coronavirus outbreak, but art student Liu Zhiwen has found a way to bring some color, literally, into our lives.
In the past four months, he has recreated more than 150 famous portraits on a wall in his hometown Daowu village, Central China's Hunan province.
From French expressionist Henri Matisse's Young Woman in a Blue Blouse and Dutch master Vincent van Gogh's post-impressionist Portrait of Armand Roulin, to Spaniard Pablo Picasso's primitivist Portrait of D. M. and Girl with a Pearl Earring by Dutch Golden Age painter Johannes Vermeer, the wall has become a local tourism draw, attracting travelers to take photos in front of it.
"I have reproduced these famous portraits and organized them together on the wall, breaking the barriers in time and genre, which is my way of expression and my understanding of deconstructionism," says Liu, a senior student, majoring in oil painting at the Qingdao University of Science and Technology's College of Art in Shandong province.
For Liu, Italian artist Amedeo Modigliani's paintings look especially good on the concrete wall, where the portraits are characterized with long necks and noses and oval faces.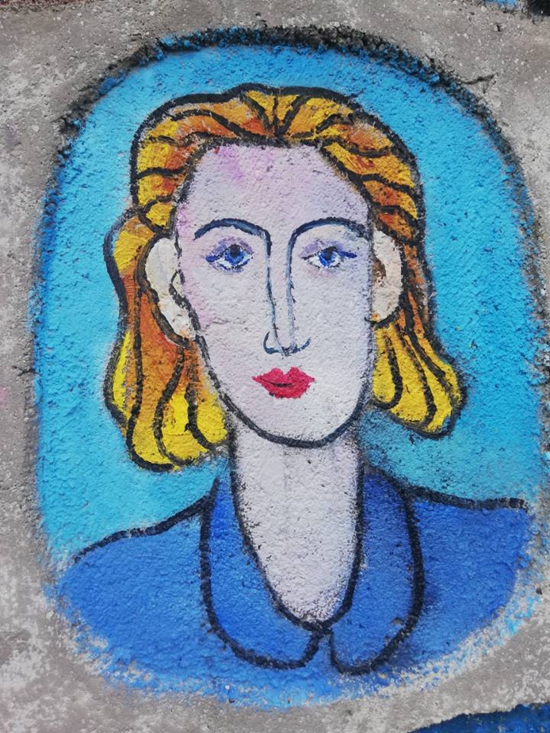 Liu's recreations of paintings of Henri Matisse's Young Woman in a Blue Blouse. [Photo provided to China Daily]
The topic, "Student turns wall into oil painting canvas within four months", has become popular, and has been viewed about 30 million times as of Tuesday.
Many internet users were amazed by the makeover of the wall, saying that "it is a joy for passers-by", and it is also "a good way to beautify streets in the countryside".
One user commented: "Who said a village cannot have some style? With creativity, anywhere can be a gallery."
On the other hand, his project has forced many to reflect on their own outbreak productivity, like another user who posted: "Shame on me. I, being a college student too, have only gained weight and tendinitis during my extended vacation, because the only company I've got is my smartphone."
Facing the sudden attention on social media, Liu remains modest. "I am just self-disciplined," Liu says. "There are tens of thousands of art students who are better than me."
With the wall's sudden fame online, Liu decided to name it "wanghong (internet star) wall", which will be "a special gift to mark his graduation" during the recent challenges.