Confucian sites in Qufu reopen to the public
(chinadaily.com.cn) Updated: 2020-03-31
The three Confucius sites in Qufu, Shandong province, namely the Temple and Cemetery of Confucius and the Kong Family Mansion, reopened to the public on March 29 after being closed for over two months due to the novel coronavirus outbreak.
At 9:00 am, the traditional city gate opening rite at Minggucheng got underway, attended by more than 100 tourists from all over the country looking to experience the hometown of Confucius.
Tourists stared on in admiration as the solemn morning bell rang and an elegant song and dance performance was staged.
"Qufu is the first place I've visited after nearly two months of being cooped up at home," said Zhao Ruxin, a tourist from Jinan, capital of Shandong province.
"The traditional performance set amidst all the ancient buildings makes me feels like I'm traveling back to ancient times. The trip has been well worthwhile."
After the city gate opening rite, tourists visited the entrance of the Confucius Temple guided by staff members. They entered the scenic spot after being disinfected, having their temperatures taken, registering their information and showing their tickets.
"They implemented very strict epidemic prevention measures both inside and outside the scenic spot, which makes us tourists feel at ease," said a tourist surnamed Gao from Henan province.
According to officials at the Qufu culture and tourism bureau, the Confucius sites have been fully prepared and have set up strict epidemic prevention and control regulations.
It has implemented a real-name ticket purchasing system and daily visitor flow will be capped at 50 percent of maximum capacity. Visitors are required to show a "green pass" (a green QR code which allows its holders to travel across Shandong without worrying about coronavirus-related traffic restrictions), have their temperature taken at the entrance, and wear a mask at all times.
Tickets are currently being sold at half price – 70 yuan ($9.88) per person. Chinese medical workers will enjoy free admission to the Confucius sites until Dec 31, 2020.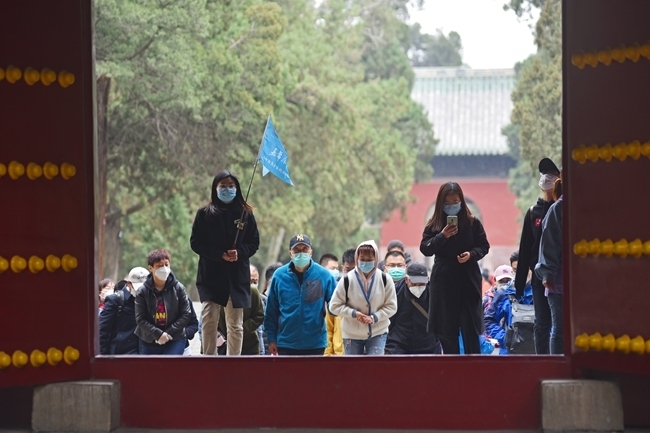 The three Confucius sites in Qufu, Shandong province reopen to the public on March 29. [Photo by Hao Yasong/provided to chinadaily.com.cn]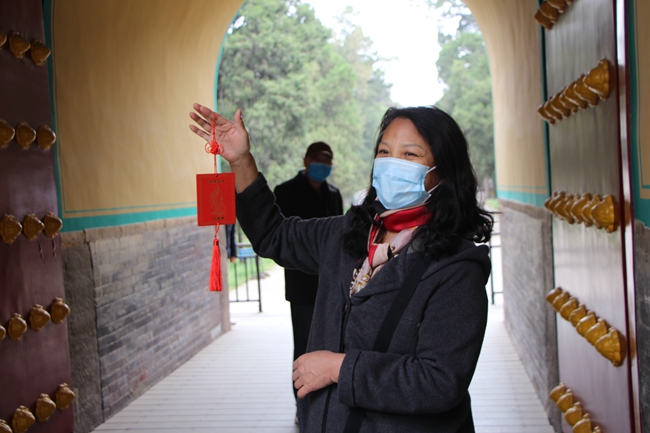 A visitor shows her blessing card at the Confucius Temple in Qufu, Shandong province, March 29. [Photo by Hao Yasong/provided to chinadaily.com.cn]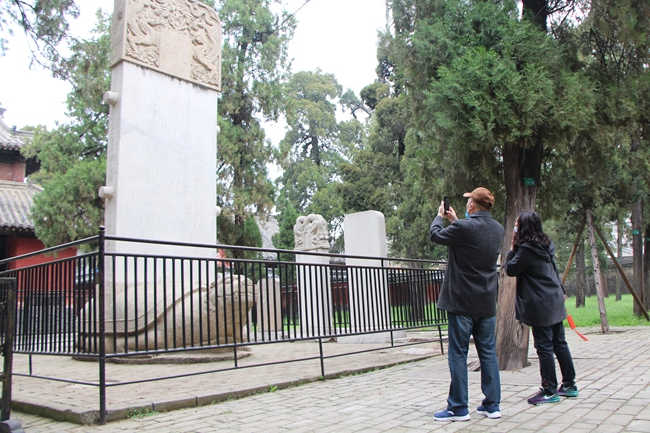 Visitors take photos of the ancient stone tablets at the Confucius Temple in Qufu, Shandong province, March 29. [Photo by Hao Yasong/provided to chinadaily.com.cn]