24 Solar Terms: 10 things you may not know about White Dew
(chinadaily.com.cn) Updated: 2019-09-08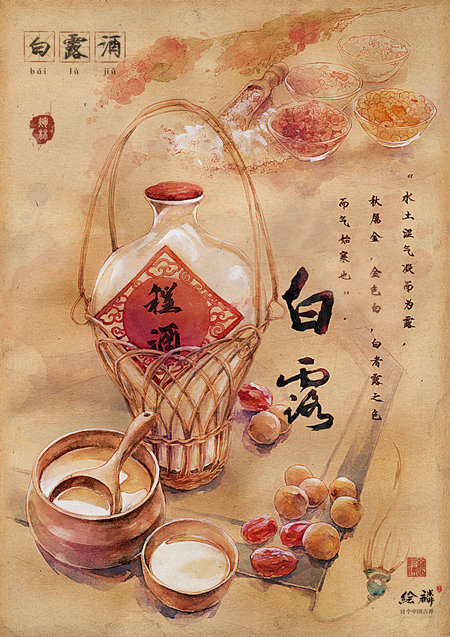 A painting of White Dew from Li Xiaolin. As a popular young Chinese artist, Li combined the customs during a solar term and the associated food and created a series of illustrations named "24 Solar Terms and Chinese Delicacies". [Photo provided to chinadaily.com.cn]
The traditional Chinese lunar calendar divides the year into 24 solar terms. White Dew, (Chinese: 白露), the 15th solar term of the year, begins this year on Sept 8 and ends on Sept 22. White Dew indicates the real beginning of cool autumn. The temperature declines gradually and the vapors in the air often condense into white dew on the grass and trees at night. Here are 10 things you should know about White Dew.
Touring during Sept Varying by geographical location, autumn comes earlier in the west and northeast of China. Right now Kanas in Xinjiang, Jiuzhaigou in Sichuan and the Greater Hinggan Mountains in Northeastern China are entering the most beautiful season of the year. Forests in gorgeous colors and minority groups with their diversity of cultural styles have attracted a huge number of visitors.
More white dews From the first day of the White Dew on, there are more and more dews. Although sunshine in the day is still hot, after sunset, temperatures decrease rapidly. At night, water vapors in the air turn into small water-drops when it encounters cold temperatures. These white water-drops adhere to flowers, grass and trees. When the morning comes, sunshine makes them look crystal clear, spotless white and adorable.