An artist's lifelong devotion to Chinese New Year paintings
(China Daily) Updated: 2018-02-03
JINAN - A cherubic child holding a big fish, a giant tree bearing golden coins as fruit, or delicate woodblock paintings are all often hung at homes during the Chinese Lunar New Year. For many Chinese, bright-colored woodblock paintings, which are hung at almost every door, windows and walls for festival decorations, are quite time-limited. As soon as the parties come to an end, these print works are at once thrown away.
However, these short-lived New Year paintings require a year of hard work by the artists, many of whom have devoted their entire life to this traditional folk art.
Yang Luoshu, a 92-year-old man from Weifang, Shandong province, is among those who have had great passion for the Chinese Lunar New Year woodblock prints. Yang has worked as a craftsman for 77 years, and has kept polishing his carving skills with every piece of work.
"When I was young, I often saw my father carving, and I remember being so curious about it," Yang says. "One day my father was gone for a while. I quickly grasped his knife and carved on the woodblock. That was the very first day of my carving experience."
Yangjiabu New Year woodblock paintings, which Yang has fallen in love with, emerged in the Ming Dynasty (1368-1644) around 600 years ago. As a national intangible cultural heritage, it is now one of China's three representatives of traditional folk paintings for the New Year, together with Tianjin's Yangliuqing and Suzhou's Taohuawu.
Each made-up painting requires five steps: sketching outlines, engraving the woodblock, printing, painting and mounting, all done by hand.
Running a centuries-old folk art family workshop named Tongshunde, Yang has carved all kinds of motifs, including flowers, birds, mountains, rivers, and traditional Chinese gods, and was named a "master of folk arts" by UNESCO in 2001.
"Though engraving is hard in general, carving gods is especially difficult, with all the armor and vivid facial expressions. Still, I can manage it," Yang says.
Being the 19th generation of the painting family, Yang is now working with a dozen experienced craftsmen, and makes around 150,000 New Year paintings every year, which are not only sold in China, but also in countries such as the United States, Singapore and Japan.
For him, the next thing to do is to find qualified successors to make sure the skills are passed to younger generations.
"There are now dozens of local workshops making woodblock paintings," Yang says. "However, compared with the prime time 200 years ago, which had around 300 workshops, the number has declined drastically."
Besides holding exhibitions and seminars home and abroad, Yang has also taken several apprentices, among whom is his elder son Yang Fujiang, who has carved for 42 years.
"I had thought about finding another job when I was young," the young Yang says. "However, my father told me about the status quo of woodblock paintings. As his son, I felt the responsibility on my shoulders."
His father was very strict.
"I work eight to nine hours per day," the young Yang says.
To the Yang family, although modern printing techniques have boosted efficiency, the traditional craft and the spirit are beyond comparison.
"The craft is sacred to me," says Yang Luoshu.
Nevertheless, the old Yang realizes that something must be changed to ensure handmade New Year paintings live on.
"We are now thinking about development, allowing the prints to be more creative," he says.
Apart from making wall calendars and thread-bound booklets, they have also put local stories in their work.
"We have dug out traditional fairy tales and put them in our paintings, so that our Chinese culture could also be appreciated," the father said.
"The craft will live on. Of that I'm pretty sure," says the son.
Xinhua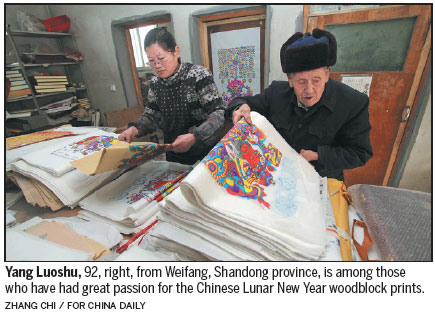 (China Daily 02/03/2018 page16)