Upgrades focus on cultural industry
By Yuan Shenggao (China Daily) Updated: 2017-10-20
The city government of Weifang, Shandong province recently laid out a clear action plan regarding its four-city development initiative. The upgrading of conventional and cultural industries tops the agenda.
According to the plan, Weifang will invest 126.7 billion yuan ($19.17 billion) this year in 1,074 projects related to 23 industries this year. It will also pour 12.1 billion yuan into building 62 industry parks this year. It is advancing the construction of 27 strategic innovation platforms and competing for approval to build 10 national and provincial industrial demonstration zones and bases.
Over the next three years, Weifang will continue building its national first-class modern agricultural base, national high-end manufacturing base and characteristic service industry base.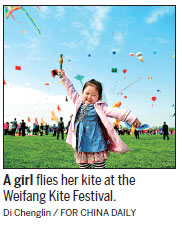 The plans are a bid to foster the growth of branded agriculture, strategic emerging industries, traditional industries and modern service sectors, optimizing Weifang's industrial structure. The city has identified certain industries it will move up the value chain: machinery equipment, vehicle manufacturing, petrochemical and salt chemical engineering, textiles and clothing, food processing, paper-making and packaging.
By 2019, the emerging industries' main-operation revenue is expected to hit 300 billion yuan, contributing 18 percent to the city's overall industrial growth of the city. The added value from production-related service sectors should account for about 57 percent of the whole services industry, according to the plan.
Logistics, industrial financial innovation, regional headquarters, cultural innovation and design, service outsourcing and information consumption are expected to be the city's major services industries.
According to the plan, Weifang should have cultivated five 100-billion-yuan industrial clusters by 2021, in the electric information, biomedicine, bio-based materials, vehicle manufacturing and ocean power equipment sectors.
The services sector will replace industry as the main component of the city's economy, and research and development investment should be kept at a high level compared with other cities, the plan stipulated.
It says that by 2019, Weifang should have remarkably enhanced its ability to transform its cultural resources into industrial strengths, as the foundation of booming cultural industries. Institutions designed to pass down traditional cultural heritage to future generations will be formed; a modern cultural public service system will be completed; cultural industries and cultural tourism will become a pillar industry of the city's economy; and cultural industries' annual growth should remain at about 12 percent, according to the plan.
(China Daily 10/20/2017 page24)