Experiences of China: Life as a doctor
By Misbahul Ferdous (chinadaily.com.cn) Updated: 2017-09-25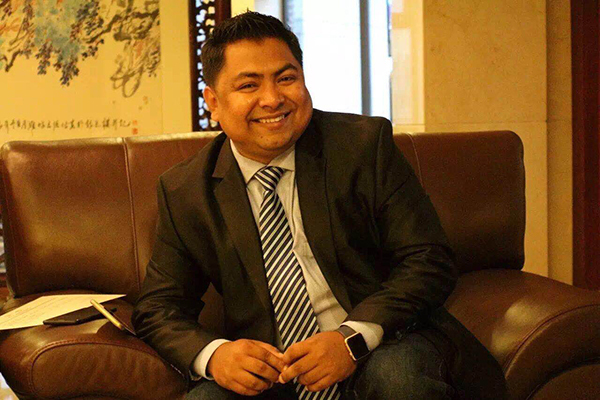 Misbahul Ferdous [Photo provided to chinadaily.com.cn]
Life is full of challenges and hurdles, but hard work, resilience and consistency is the key to success. In our lives, some moments are unforgettable and some accomplishments mark history forever. The first of any field cannot be replaced, and I have the honor to be the first PhD in medicine from Bangladesh.
One September day in 2009, I landed at the Yaoqiang International airport in Jinan. I was not at all familiar with the new environment. The plane arrived and no one was there to welcome me. Unfamiliar with the Chinese language and surrounded by unfamiliar faces, an unfamiliar land was welcoming me instead. I had a most precious paper in my hand — my admission letter and the JW202 of Shandong University, with the university's address written on. All I knew was there was a shuttle bus going from the airport to city center. Despite the confusion, I managed to arrive at Shandong University's international office, where I started my school life.
For the next 8 years, Guo Wenbin, my first mentor and Cui Lianqui, my PhD mentor, helped me to excel in the field of medicine as a doctor. They paved the way for me to prosper. In 2010, Guo attended an international conference in Wuhan where he let me join the conference, where I met with NC Nanda, a professor of medicine and cardiovascular disease at the University of Alabama at Birmingham. Nanda pioneered the development of echocardiography, discovering techniques that have revolutionized the way we practice cardiology in the world today.
I had the privilege to work under his supervision as a research fellow in at a university-affiliated hospital for five months in 2011. This fellowship changed my life, broadening my view of medicine, especially interventional cardiology and echocardiography. I learned advanced techniques from him, along with basic skills. In the same year I went to Indraprastha Apollo Hospital, India's most prestigious, for 5 months training' in percutaneous coronary intervention. Upon my return to China, I worked more efficiently, and the following year I got my master's degree in medicine. I was awarded the excellent graduate award from the Shandong University School of Medicine. During this period I came to know some pioneering professors in their respective fields, including Professor Liu Zhiyu, an innovator in lymphology and oncology. He was an important guide for my future career.
In July 2012, I graduated and was among the few continuing students given an award by the China Scholarship Council. Here I met with Professor Cui Lianqui, who changed my perspective on interventional cardiology. I accompanied him to many conferences to improve my confidence level. Wherever he went, I was with him. He took me to the American College of Cardiology's 2016 conference. He taught me how to hold an interventional PCI wire and instrument like a father holding their baby's hand. He helped with each and every step of percutaneous coronary intervention.
One of the biggest achievements in my life was meeting with cardiology pioneers. Cooperation between the Mayo Clinic and my hospital department was a big success in this regard. The Singapore General Hospital professor Tan Huay Cheem has been one of my role models, my inspiration as a cardiologist from the beginning. He is a hero in my eyes. Every day I tell myself, "Misbah, you must be like Tan Huay Cheem."
On June 18 this year, it was little hot, and the school of medicine was little crowded compared to normal days. People were preparing for a graduation party in the evening. I was wearing my red graduation gown and my son and my wife were with me. Someone took a picture and put it online with a caption: "Happy Father's Day from the PhD father for his son." One of the happiest days of my life.
From childhood I kept a small piece of paper in my wallet with important wishes written on it. Every night, before I went to sleep, I looked at this paper and encouraged myself, saying "come on Misbah, you can do it." I have had the paper in my wallet all these years, including when I was on the stage to get my PhD.
During this whole journey I relied on support from my family. Without their help and prayers, it would have been impossible to achieve my goals. It would have been impossible without my best friend, Dr. Muhammad Shahbaz, and Shandong University as well.
The day after graduation, a farewell party was held at the main campus, where I was given the excellent graduate award and had the honor to give a short speech. The concluding words of my speech were, "Whenever people ask me, 'Do you like China?' my answer is always the same: 'I don't like China, I love China.'"
Among the professions in the world, I believe the medical profession is the best and among the different specialties, cardiology the most important. I am proud to be a cardiologist, proud to be a doctor and proud to be the first PhD in medicine from Bangladesh to graduate in China at Shandong University.
Dr. Misbahul Ferdous is a PhD graduate from the Shandong University School of Medicine and a China Scholarship Council award recipient.